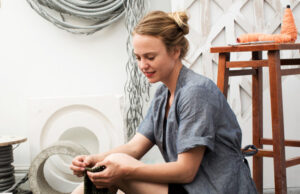 Antigravity: A Space for Contemporary Perspectives is an exciting new series of site-specific art installations in the entry of The Rockwell. Each spring, a contemporary guest artist will create an original work of art in response to The Rockwell's collection. This new, unusual exhibition space greets each guest, provoking curiosity and reflection about art from the moment you enter the building.
Crystal Gregory, the 2018 Antigravity artist, has created a series of handwoven lace panels titled Through the Thread. Gregory uses textiles as veils and screens that restrict and alter our views of the surrounding space. Her work questions our awareness of the multiple filters and lenses through which we see the world.
The perfect fit for our Art + Science program year, Gregory experiments with media and plays with our expectations of how each material is used. Traditionally, metal serves as function and load-bearing, while lace is a non-structural, decorative element. Here, the roles have been reversed ‒ woven lace becomes the structural support while a cast pewter ribbon adorns the work's lower edge. Through the Thread prompts us to consider the distortions of our own perspective.
5 Ways to Experience Antigravity
1. Visit The Rockwell
Through the Thread by Crystal Gregory will be on view now through February 17, 2019. The Rockwell is open daily, 9 a.m. to 5 p.m. with discounts for AAA, military, local residents, students and 55+. Kids/teens 17 and under are always free at The Rockwell. 
2. See Crystal Gregory as a Guest Artist at Corning Museum of Glass
March 5 – 9, 2018 | Daily, 10 a.m. – noon, 1 p.m. – 4 p.m.
Gregory will work collaboratively with Corning Museum's Hot Glass team as part of the Guest Artist Series to experiment with new ideas and processes to further enhance her mixed media works. See her in the the Amphitheater Hot Shop each day, March 5 – 9, 2018.
3. Rockwell Ambassador Meet-the-Artist Party
Thursday, March 8, 2018 | 5:30 – 7 p.m.
Rockwell Ambassador members are invited to celebrate the Museum's most recent Emerging Artists Rotunda Installation, Antigravity, featuring sculptor and fiber artist Crystal Gregory. Gregory will speak about her artistic vision and process and how the piece fits into her larger body of work. 
4. Members-Only Coffee with the Curator
Tuesday, March 13, 2018 | 10 – 11 a.m.
Members are invited to enjoy light refreshments and warm conversation at this members-only coffee hour with The Rockwell's Curator of Collections, Kirsty Buchanan. Members are welcome to invite up to two guests. Hear first-hand about two exciting installations, including the inaugural Antigravity featuring sculptor and fiber artist Crystal Gregory, and a series of works by Frederick Carder, lead designer for Steuben Glass Works from 1903–1932. 
Not yet a member? BECOME A MEMBER TODAY AND START ENJOYING ALL THE BENEFITS!
5. Spring Break: Textile Collage Workshop for Youth
Tuesday, April 24, 2018 | 10 a.m. – 4 p.m.
Students will work with artist Shannah Warwick, using colorful, hand dyed textiles to create a unique collage inspired by Crystal Gregory's work. Explore color, texture and gravity in this creative hands-on project.
About the Artist
Crystal Gregory is a sculptor whose work investigates textile structure through a variety of materials. Gregory received her BFA from the University of Oregon and was granted a Full Merit Scholarship to attend The School of the Art Institute of Chicago where she received her MFA from the Fiber and Material Studies Department. In 2013 she was awarded highest honors with The Leonore Annenberg Fellowship for the Performing and Visual Arts. With this grant she moved to Amsterdam NL where she took a role as Artist-In-Residence at The Gerrit Rietveld Academie of Art.
Her work has been exhibited in galleries and museums nationally including Devotion/Destruction: Craft Inheritance at Dorsky Gallery Curatorial Projects, Load Bearing: The Art of Construction at The Hunterdon Art Museum and Crossover at Black and White Project Space and has been reviewed in publications such as Surface Design Journal and Art Critical. Gregory is the Assistant Professor in Fiber within the School of Arts and Visual Studies at the University of Kentucky. Gregory splits her time between Lexington, KY and Brooklyn, NY and currently shows with Tatyana Okshteyn at Black & White Gallery/Project Space in Brooklyn, NY as well as Momentum Gallery, NC.