We're excited to announce two important additions to The Rockwell staff from the last few months! Rockwell Members (and future members) will be hearing more from Taryn Nie, who joins the advancement department in the role of membership and grants manager. Ann Recotta joins our active education department as the new education and volunteer programs coordinator.
---
Taryn Nie, membership and grants manager, joins The Rockwell staff after a year of volunteering in our own curatorial department. Taryn brings experience working as Marketing Director at the J.M. Stringer Gallery of Fine Art in Florida; her education includes an M.A. in Museum Professions and a B.A. in Art History with a minor in English. She also brings valuable administrative experience, including fund development work at the Jacobus Vanderveer House & Museum in New Jersey.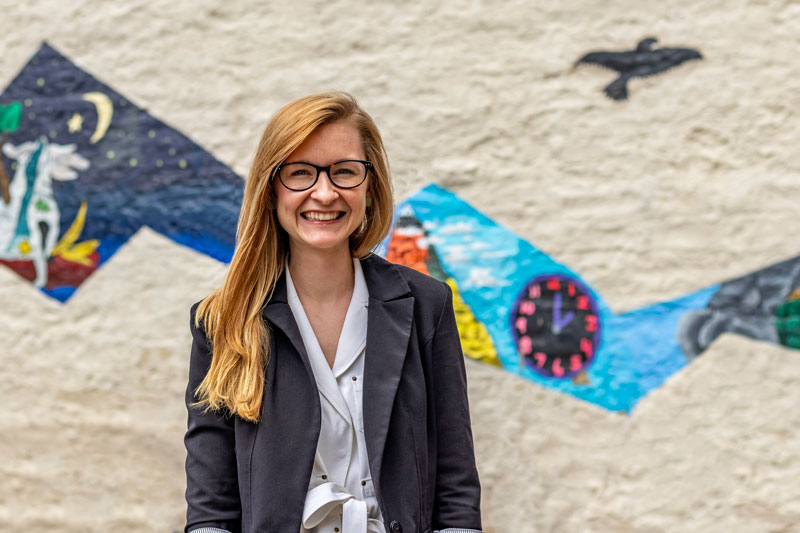 You are relatively new to the area, right? What have your first impressions of your new community so far? What are you looking forward to exploring? 
Where to start! I just hit my one-year anniversary in Corning and feel such gratitude for the welcome my husband and I have received. Within a few months, I already felt like I had a little network here – a book club, a running group – and it's only grown and deepened. We live on beautiful Market Street, and I love walking the length of it on any given day and seeing familiar faces. In my mind, I've always wanted that "Cheers" experience to be a part of where I put down roots, where everybody knows your name – that's Corning. Not to mention, I'm originally from Alaska and love being back in a place where I can hike, camp and generally feed my outdoorsy soul. I'm looking forward to checking off ALL the waterfall and gorge hikes.
What drew you to The Rockwell in particular? 
The stellar staff and collection.
I volunteered with The Rockwell for the past year, and was continually impressed by the level of dedication and enthusiasm the staff presented at every single event, program and exhibition. It was contagious. I had to be a part of it. To sweeten the deal, The Rockwell's focus on American art aligns perfectly with my academic background and interests. I wrote my undergrad thesis on a Midwestern American female artist, Leila Powers Briggs, and have always been drawn to how regional, mid-size museums celebrate those strands of American art that aren't the archetypal representations of a certain artistic time period or genre. 
What kind of projects do you have ahead in your new position? 
Simply put, engaging with you – our members and not-yet-members! I'm excited to learn about you, hear from you, and together figure out how The Rockwell can continue to be a place you love coming to. Often. I'm also looking forward to working with familiar and new organizations to secure grant funding for all the programs and events our visitors know and love. We don't do all this cool stuff alone! Our grant partnerships are critical.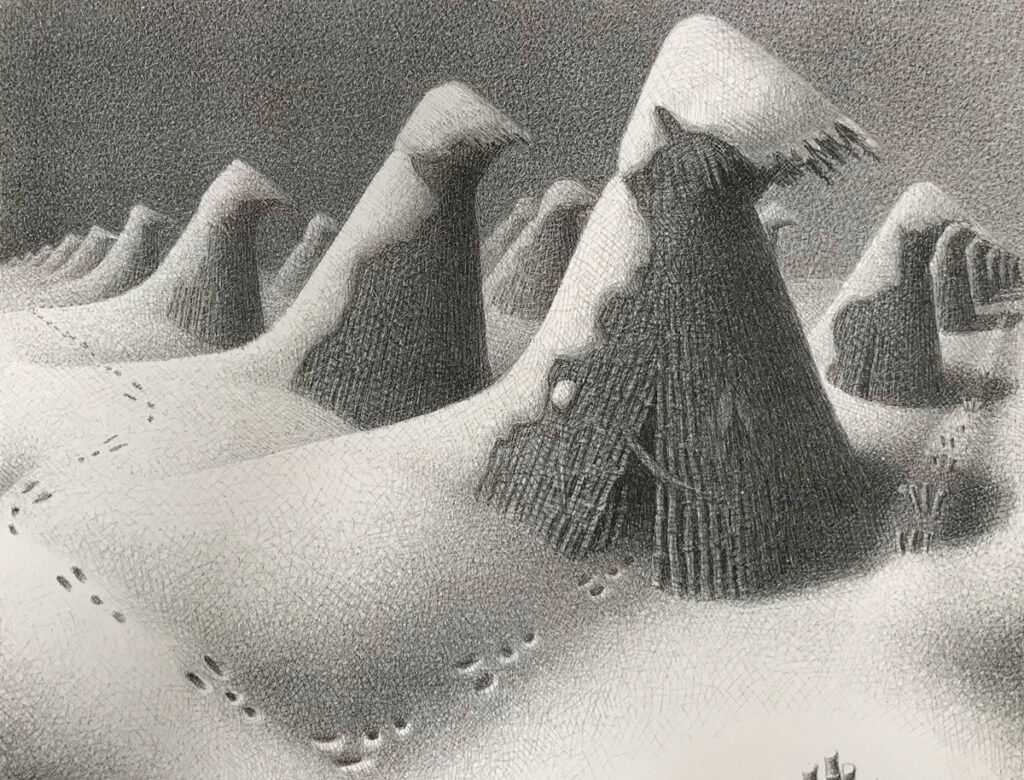 What's your favorite artwork in The Rockwell Collection as of now? 
I have so many for different reasons! But I'll have to go with the new acquisition by Grant Wood, titled January. The snow-covered haystacks impart such a gentle reminder of the fragility of our natural world, as well as the environmental elements that influence our nation's agricultural foundation. It also evokes a sense of life burdened, which I think is universally applicable. That's what I love about art – one piece with so many fun layers to explore! 
Anything else to add? 
Join The Rockwell as a member! You won't regret it.
---
Ann Recotta, education and volunteer programs coordinator, is responsible for recruiting and scheduling docents, providing guided tours of the collection and assisting with the implementation of The Rockwell's varied education programs. Ann comes to us from 171 Cedar Arts Center in her most recent position as Administrative Manager. Ann is a long-time resident of Corning and a practicing artist; she teaches embroidery and other jewelry-making techniques to individuals and groups, ages 4 and up. Her work has been represented at many local and regional galleries.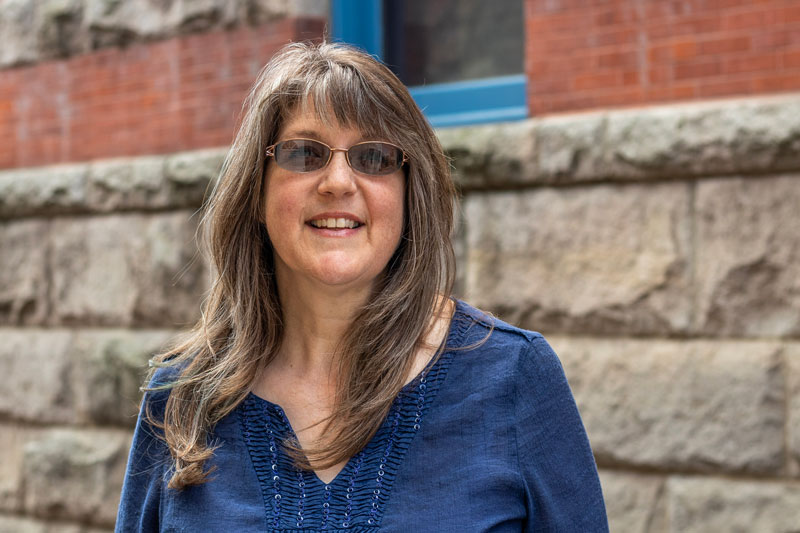 What have your first impressions of your new position so far?
It's an exciting role. There are so many moving parts around here, and adaptability is the name of the game. I have to be ready to switch gears at a moment's notice, and I enjoy the energy that each day brings!
I know you've worked as a partner with The Rockwell for years through other arts organizations – is there anything that has surprised you? 
What has surprised me is the massive community involvement. Even though I've worked with The Rockwell through other organizations, I had no idea how many lives are impacted by this amazing place every week. We have school tours that align with New York State Learning Standards, and pre-tour and post-tour activities for students; we host lectures, exhibition receptions, community concerts and space for meetings. It's truly astonishing to see the change-over of spaces, sometimes multiple times a day. 
What drew you to The Rockwell in particular? 
I knew The Rockwell is a vibrant and flourishing organization, and specifically wanted to be part of the movement. I appreciate that The Rockwell supports all members of the community, from babies and toddlers with the Stroller Walks and Story Hours to seniors with the Meet Me At The Museum program. Everyone in this community can find something to enjoy here. It's incredible to realize that I only knew a small part of what is happening here, and I'm so grateful to be in the midst of the magic.
What kind of projects do you have ahead in your new position that you're excited about? 
I'm looking forward to growing our band of volunteers. Presently, we have a dedicated group of educated and motivated people that I want to fully appreciate. I would love to bolster this group as our outreach and tours increase. I want The Rockwell Museum to be one of the favorite places to volunteer!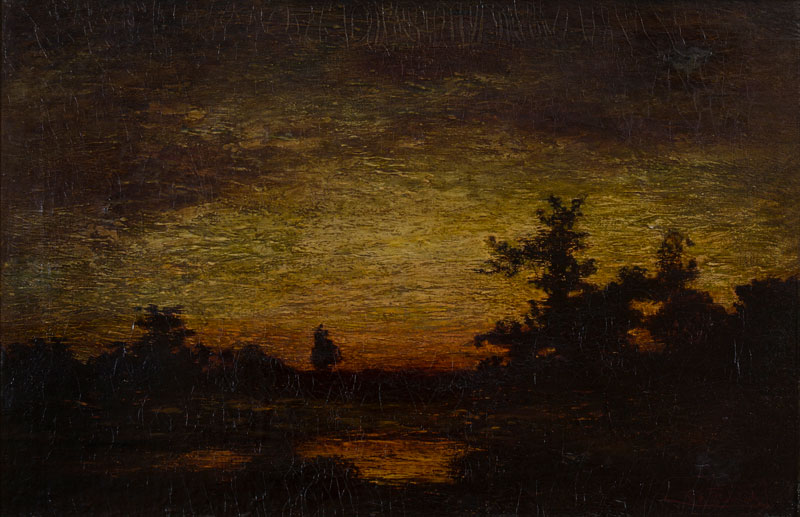 What's your favorite artwork in The Rockwell Collection as of now? What draws you to it?
Sunset by Ralph Blakelock is compelling. I have to walk by this painting every chance I get. I very much appreciate the depth he created so intentionally, using many layers of paint. The texture builds tension while the tonality creates moodiness. The trees look like they're beckoning, but I'm not sure of their intentions. What lies in those shadows?
Anything else to add?
 I'm looking forward to working with the community to share how The Rockwell can touch their lives. Whether through volunteering, touring with a group or school, or perusing the galleries individually, I want everyone to know the magic of The Rockwell. Taking time to spend in these spaces is refreshing and rejuvenating.