May 23, 2019
Thank you to all the Rockwell Members and supporters who visited this morning for the surprise unveiling of The Rockwell's latest acquisition – the first living artwork ever to be a part of the Museum's collection. Sam Van Aken's "Tree of 40 Fruit #87" is now growing in the Thomas Buechner Park, across the street from The Rockwell on Denison Parkway. 
[smartslider2 slider="119″]
True to its name, the tree – which was actually planted somewhat in secret in October 2018 and has been cared for diligently ever since – will ultimately bear 40 different types of fruit. It currently has the ability to produce three types of apricots, two types of cherries, a variety of nectarine, two types of peaches, a pluto, three Asian plums and five European plums.
Van Aken created the living installation by grafting different varieties of stone fruit upon a single trunk to create a specific aesthetic vision. He searches for rare antique and heirloom varieties which include almonds, in addition to those listed above. Many are considered "forgotten" varieties, no longer commercially grown. The sculpting process takes approximately five years, allowing time for each new season of grafts to successfully take to the tree.  The Rockwell's tree is the 87th in a series Van Aken has planted around the country.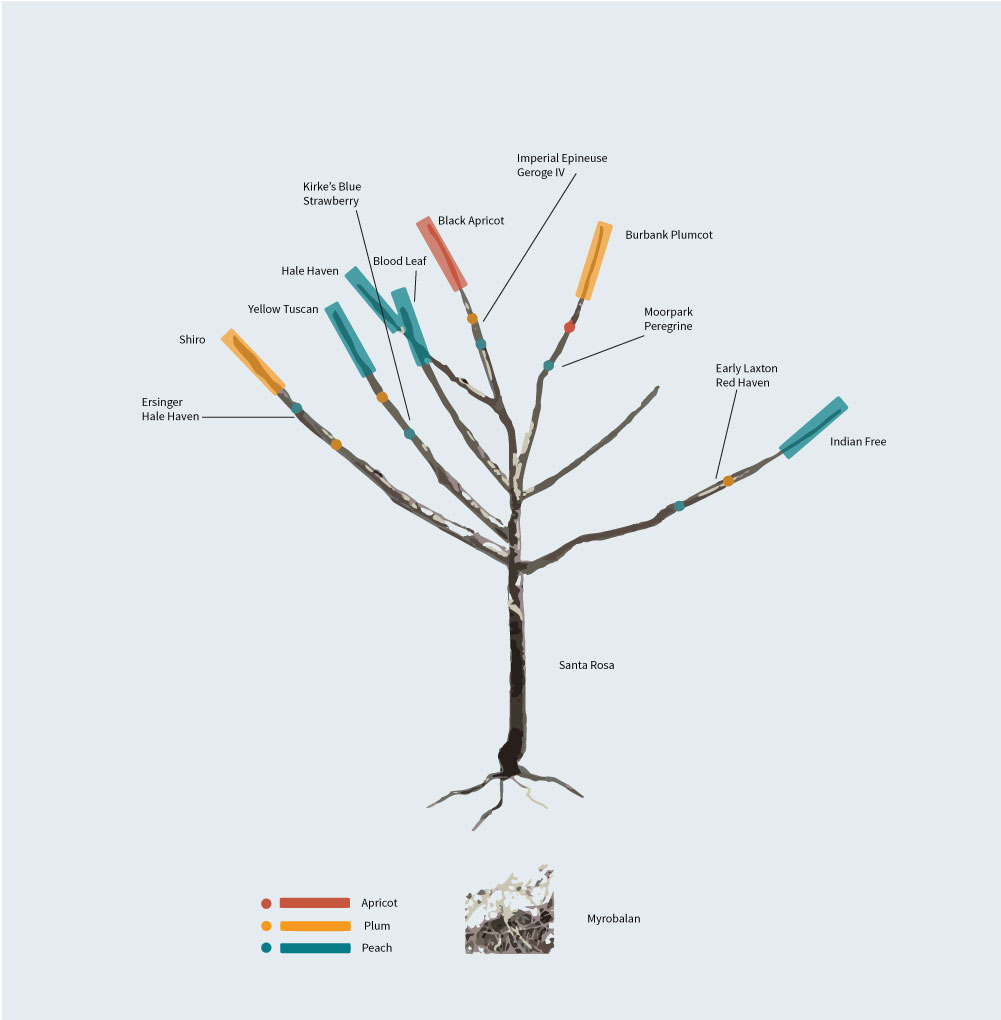 The diagram at left identifies each existing graft location, stone fruit variety and blooming period. This preparatory sketch serves as a map, allowing the artist to sculpt the tree and realize his artistic vision.
The first uniquely American art movement, the Hudson River School, focused on America's most defining characteristic: the landscape. Like these 19th century artists, Van Aken creates work of and about the landscape. Many of these artists created paintings that were more allegorical than authentic. They used composite drawings taken in the field to insert or remove elements to create a specific aesthetic vision. This editing of nature is much like Van Aken's grafting practice. In this way, the Tree of 40 Fruit is the perfect addition to the Museum's collection as we explore the American experience through fine art.
Members of the public can view the tree any time in the public Buechner Park and learn more about the installation inside The Rockwell Museum.
Tree of 40 Fruit no. 87 was purchased with funds donated by Jeff Evenson and Karyn Cepek, Thomas Halgash and Laura Coleman, and the Clara S. Peck fund. Thank you for your support!