Last week, students and educators gathered to celebrate the unveiling of the 2019 Alley Art Project mural design, to be painted on the building façade of Carey's Brew House at 58 Bridge Street (adjacent to E. William Street) on Corning's Northside. 
[smartslider2 slider="118″]
For the 11th Alley Art Project mural, nine High School Learning Center students studied Santa Clara Pueblo artist Tammy Garcia's bronze sculpture, Harmony – this artwork is on long term loan to the Museum from James B. Flaws and Marcia D. Weber. Students worked with Rockwell educator Amy Ruza and Artist-In-Residence Brad Leiby to observe the graphic symbols incorporated into the sculpture and learned about the tradition of storytelling through art. Garcia blends traditional cultural and Native American symbols with personal symbols, reflecting on her family and the world around her. Students created paintings that reflect the stories of their personal lives and included symbols to illustrate their visual narratives.
Artist Brad Leiby then works with the students to incorporate symbols from their personal narratives into a collaborative mural design, telling a collective story reflecting on the students' place within their community.
Amy Ruza, youth and family programs educator, sees this year's mural design as bursting with hopes, dreams and opportunity. "I am so impressed by this dimensional design that I find to have a futuristic vibe and appears to be filled with possibilities. Where do the ladders lead? What is about to emerge from those cracking eggs? How far does the mountain range stretch? Who is living in this world? And how is everything thriving together, harmoniously?"
Building owners Joe and Tammy Carey are thrilled with the design and cannot wait for the painting process to begin.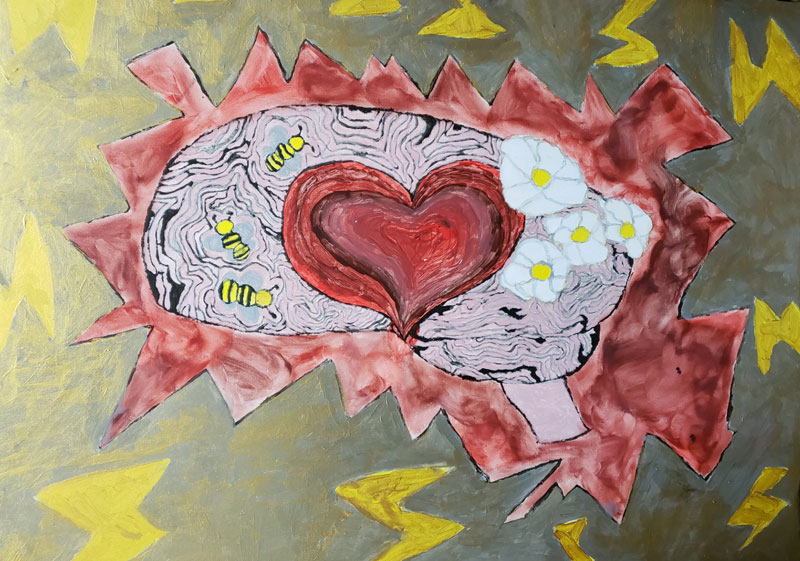 "My brain and its physical issues keep messing up my life, but so does my heart, so I can't depend on my brain or my heart. My two best friends swarm alongside me but they're also a stinging force in my life. White oleanders are poisonous flowers but they're beautiful and very widely planted. My entire life is electric from seizures to electric relationships, and I'm unstoppable like a lightning bolt." -Petra Mullooly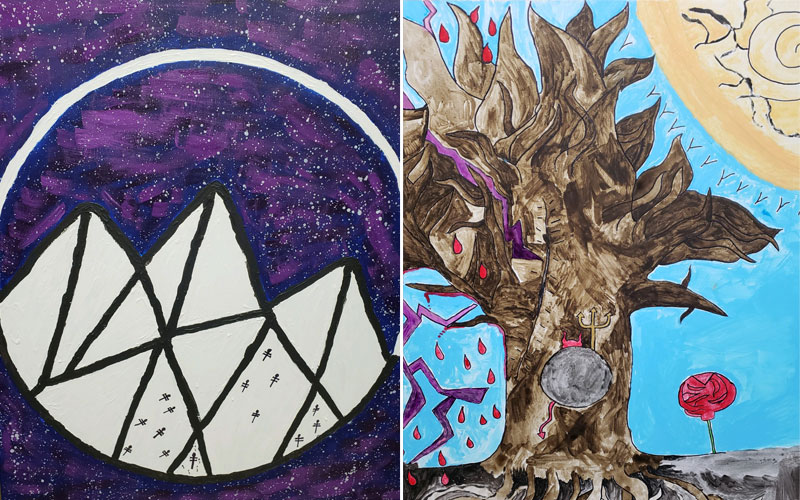 "The symbols that spoke to me from the bronze were the mountain shapes and the dragonflies. The mountain shapes stood out to me because it reminded me of my favorite book series by Sarah J. Maas, "A Court of Thorns and Roses . . . I was also reminded of the main character, Feyre because she is so strong and resilient and will do anything for those she loves and cares about and keep them safe. The dragonflies stood out to me because they are able to fly away whenever they're in danger; they're free. I only wish I was able to do such a thing. I decided to incorporate the semicolon because I can understand and relate to Feyre because at one point in the book after she was forced to do something, she wanted to end her life." -Jennah Wilson

"My inspiration for the painting is life and the way life goes and how it is. There are two sides of the painting; the chaotic side and the sunny side represents choices. The thunder represents things that have happened to me and the crack in the tree represents my wound emotionally. The blood rain represents sins in my life and the demon coming out of the tree represents my mind subconsciously. The willow tree is a mix of thorns and the roots are clinging to life so it stays alive and the hole in the tree represents the void in me." -Cory Morrow
Visitors to The Rockwell can see the exhibition of student artwork that led to the final mural design, on view throughout the summer in the Museum's Student Gallery. While 9 students are involved in the design process, the entire student body of the High School Learning Center will have an opportunity to help paint the mural; painting will begin in August. Corning residents are invited to the mural unveiling and ribbon cutting to be held on September 26, 2019.
We invite you to stop by and see the progress throughout the summer!
This project is made possible by grants from The Triangle Fund and Great Circle Foundation, Inc.
---
The Rockwell believes in civic engagement and builds community through partnerships and collaboration by sharing the collection. The Alley Art Project is a unique educational program designed to connect local high school students to both The Rockwell's fine art collection and their community at large.
For over a decade, Rockwell Museum educators have been partnering with the High School Learning Center of the Corning-Painted Post Area School District to create stunning student-designed and painted murals that use The Rockwell's own fine-art collection as inspiration. Students work under the direction of Rockwell Museum Education staff and HSLC graduate and professional artist, Brad Leiby, in the creation and painting of each mural.
The Alley Art Project embraces start-to-finish, project-based learning initiatives. Students study art in The Rockwell collection, learning about symbolism and art theory. Students then explore aspects of individual and community identity, which acts as a catalyst for creative writing and art-making.
Each students' individual pieces of art translate to elements of a larger design, to be painted in the Corning community as a mural. Students earn credits toward their high school diploma during the time spent Rockwell educators, all while cultivating a sense of pride, ownership, and connection to the community.