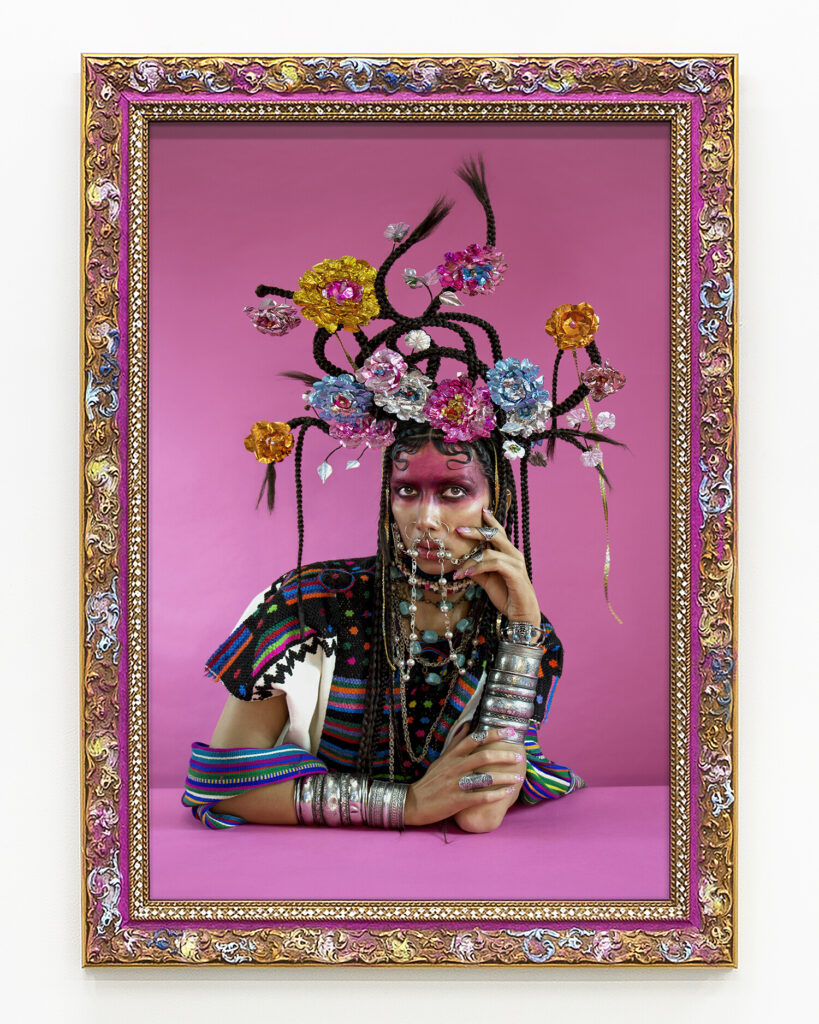 The Brooklyn-based performance artist Martine Gutierrez explores the intersection of personal and collective identity, and the role that gender plays in crafting those identities. She serves as subject, artist and muse within her own ground-breaking work to examine the fluidity of gender and its effect on interpersonal relationships. 
"Society perpetuates rigid constructs – fabricated dichotomies like 'male' vs. 'female', 'gay' vs. 'straight', 'minority' vs. 'white', 'reality' vs. 'fantasy', 'dominant' vs. 'submissive'. But our interpretation of these constructs is subjective and not immutable." -Martine Gutierrez
An exciting new work by Gutierrez is the latest in acquired artworks by The Rockwell Museum, and is now on view in the Modern and Contemporary Gallery (third floor). Xochipilli 'The Flower Prince' is a photographic print from the Demons series, appearing on page 91 of Gutierrez's 2018 work Indigenous Woman Magazine.
"A primary focus of acquisitions for The Rockwell Museum is to bring greater diversity to the perspectives in our galleries including work by women, artists of color and indigenous artists. Often, these additions are a correction of those historically omitted from museums and art history—I'm proud of our work and being able to share that 30% (and growing!) of the art and objects in our galleries are by women makers. But, I'm also thrilled we're able to address aspects of diversity that are part of our cultures' current conversations around identity, presentation and gender in the work we acquire." -Brian Lee Whisenhunt, Executive Director
Xochipilli is the Aztec god of summer, flowers, pleasure, love, dancing, painting, creativity and the soul. The deity's name translates as Flower Prince, derived from the Nahuatl roots xochitl (meaning flower) and pilli (meaning prince). Xochipilli is also associated with maize, hallucinogenic plants, fertility, butterflies, gay men and ritualized male prostitution.
Gutierrez appears in her work Xochipilli,'The Flower Prince' as the complex and ambiguous title character. As a transgender woman, the artist adds an additional layer of gender identity to the narrative of the image. Gutierrez's work is a critical and timely addition to the Museum's permanent collection during the 2019 annual theme of Questioning Identity. 
"While gender is inherently a theme in my work, I don't see it as a boundary. The only profound boundaries are those we impose upon ourselves" Gutierrez says.