The Rockwell Museu

m is pleased to announce the acquisition of Water-Line, an aerial glass landscape by contemporary artist Richard Parrish.  Parrish created 25 new works throughout 2015 to debut in his solo exhibition at The Rockwell.  While the featured exhibition closed on June 19, The Rockwell was able to acquire Water-Line to remain as the newest addition to the permanent collection.  Continuing Parrish's series of "mapping" American glass landscapes, this kiln-formed glass panel stands four feet tall and is mounted in The Rockwell's newly designed Modern and Contemporary gallery. 
"Parrish's current "Mapping" series serves as a modern day continuation of the rich American landscape tradition. His kiln-formed glass panels provide a birds-eye view of the landscape and are informed by aerial photography. Geographic features such as this Montana River are presented in an altered spatial context while still being preserved as recognizable elements of the composition," says Kirsty Buchanan, Curator of Collections at The Rockwell Museum. 
Informed by aerial photography, the glass panels provide a birds-eye view of the landscape.  Fields, rivers, and crop irrigation patterns are presented in an altered spatial context, while being preserved as recognizable components of the composition. By manipulating the expected vantage point, Parrish controls the viewer's engagement with the subject matter and causes them to view the shifting topography of America from a different perspective. 
"As an artist and an architect, I find inspiration in both the natural and the human-made environments.  My work investigates the intersections and collisions between the natural landscape and the human impositions on that landscape.  It is concerned with both physical and temporal conditions, rooted in the landscape of the intermountain west in the United States," says Parrish. 
"The thick panel is comprised of multiple layers of transparent and opaque glass and glass powders that are kiln-formed to create surface relief and texture.  The surface of Water-line is ground and cold worked to expose layers in much the same way as the surface of the earth is eroded, graded and cut to expose materials below the surface.  The resultant panel evokes an image of maps, topography and geology," Parrish continues.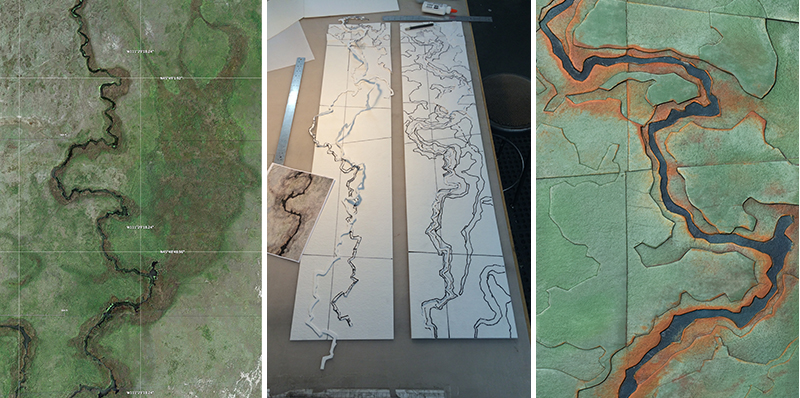 Richard Parrish is the owner of and designer for Fusio Studio, a studio for kiln-formed glass in Bozeman, Montana.   He holds a Master of Architecture degree from the Cranbrook Academy of Art in Bloomfield Hills, Michigan and a Bachelor of Architecture degree from the University of Idaho in Moscow, Idaho. His work was selected for the Corning Museum of Glass's New Glass Review 27, and he was awarded the American Craft Council Award of Achievement in 2003.  He teaches classes in kiln-formed glass throughout the United States and internationally.