August 12, 2016
Heavily sought out by celebrities, royalty, collectors and museums, Cochiti Pueblo artist Virgil Ortiz combines art, décor, fashion, video and film in his artwork. 
While busy with new business ventures (just opening a retail store in Santa Fe in July), Ortiz continues to round-out his artistic portfolio with a new outdoor mural in Corning, NY in collaboration with at-risk high school students and The Rockwell Museum. 
[smartslider2 slider="45″] 
Designs are underway and Ortiz will visit Corning from September 26 – September 30, 2016 to paint the mural alongside student artists. The mural will be located on the back building façade of Captain Morgan's, a restaurant on Bridge Street in Corning's Gaffer District.  During an Urban Arts Crawl event, the mural will be unveiled and a public reception is planned for Friday September 30 from 5-8 p.m. 
Corning's Art Alley Project murals are the result of a special collaboration between The Rockwell Museum and the High School Learning Center of the Corning-Painted Post Area School District.  Since 2009, The Rockwell and the school district have worked together in conjunction with downtown planning agencies and business owners to make this project a reality.  
Beyond the notoriety of his artistic talent, Ortiz's professional agenda centers on a lifelong dream to create opportunities for children in his tribal community that reflect the legacy of his ancestors. After meeting with The Rockwell and learning more about the student population served by the High School Learning Center program, Ortiz offered to return to Corning in 2016 to work with students in the design and execution of a mural.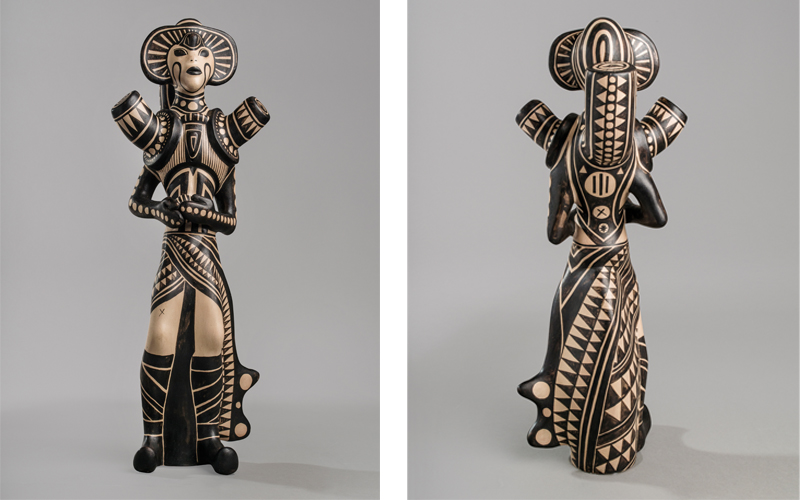 All summer, students have studied Ortiz's Ancient Elder sculpture on view at The Rockwell, a work developed as part of Ortiz's futuristic revolution story taking place in 2180 that restores sacred lands to the Pueblo peoples. Inspired by this work, students created their own "super power" characters who are meant to help bring about important changes needed in society such as equality for all peoples. A final drawing is being created by Mr. Ortiz, incorporating elements of the students' work that will become this year's Alley Art Mural. Under Ortiz's guidance, the mural drawing will be painted by the HSLC students beginning in August. 
Each academic year, students fulfill mandatory Art and English Language Arts (ELA) credits during their time spent at The Rockwell.  Guided by Rockwell educators, students use the American art collection at The Rockwell as a catalyst for creative writing and art making.  Students create individual pieces of art that work as elements of a larger mural.  Designs are later painted on the alley facades of downtown businesses by the students. There are currently a total of seven murals and the addition of the new mural will make eight.
"Art is intended to be a part of our everyday lives – to inspire and to be enjoyed in the communities in which we live," says Gigi Alvaré, Director of Education at The Rockwell Museum in Corning, NY.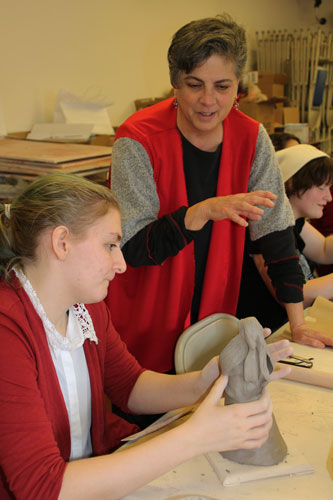 "The Alley Art Project provides students an outlet to express themselves and is a way in which they can contribute something positive to their community.  Most importantly, an incredible sense of pride is gained," says Alvaré.   
The mural project is changing students' lives, evidenced by the story of a former student and successful graduate of the HSLC.  A highly creative and talented artist, a student participant in the first alley art mural now serves as the artist-in-residence on the project. 
"This story is 'full circle' for me – it takes a village to raise creative and caring students and the Alley Art Project has deeply connected many students to our community," continues Alvare. 
To check out these murals in person, you can begin in the parking lot of The Rockwell.  Four can be seen just around the corner from The Rockwell's entrance. 
This project is made possible by grants from The Triangle Fund and Great Circle Foundation, Inc., and William G. McGowan Charitable Fund.
Virgil Ortiz in Corning, Fall 2015