Spring may be slow to arrive this year, but the Tree of 40 Fruit has been quietly blooming. While the Museum is closed, visitors are invited to see the tree and treat it like any artwork – very gently! 
Located diagonally across the street from The Rockwell Museum in Buechner Park, Tree of Forty Fruit #87 could be mistaken for any other fruit tree – until it blooms. The Rockwell acquired this tree as an addition to our permanent collection of artwork in 2018. Through grafting, artist Sam Van Aken creates a tree that has the capacity to produce over 40 varieties of stone fruit including peach, plum, nectarine, apricot, cherry and almond.
Wait, what? A tree is in our collection of fine works of art? Let us explain.
[smartslider2 slider="139″]
How can a single tree bear 40 fruits?
After planting, the tree undergoes a five-year grafting process by the artist, Sam Van Aken. The tree will eventually bear 40 varieties of heirloom stone fruit. Van Aken has spent over a decade developing this technique by researching and studying fruit trees. Stone fruits are among the most inter-compatible fruit species. Stone fruits include peaches, plums, apricots, nectarines, cherries and almonds.
Many forgotten stone fruit varieties are preserved through Van Aken's unique work, as they are no longer commercially grown. Most grocery stores and markets only carry a few varieties of each fruit species.
What does a fruit tree have to do with American art?
Landscape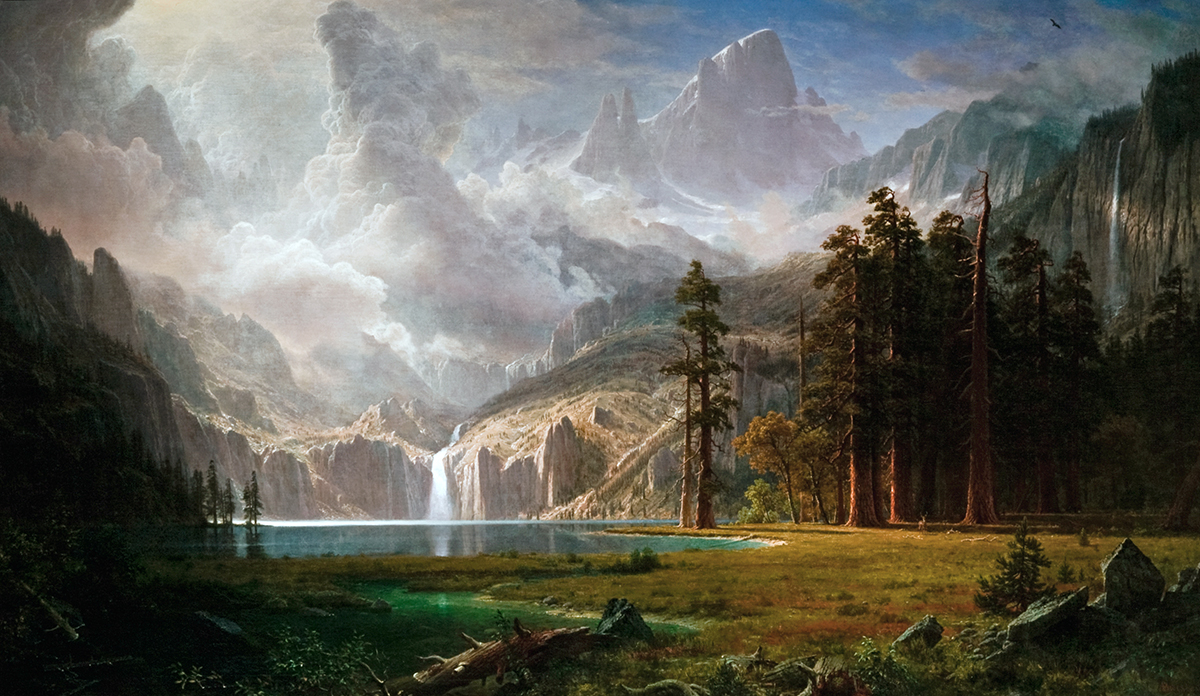 The first uniquely American art movement, the Hudson River School, focused on America's most defining characteristic: the landscape. Like these 19th century artists, Van Aken creates work that is of and about the landscape.
Many Hudson River artists created paintings that were more allegorical than authentic. They used composite drawings taken in the field and inserted or removed elements to create a specific aesthetic vision. This editing of nature is much like Van Aken's grafting practice.
Conceptual Art
Still, can a tree be art? Tree of 40 Fruit is a living sculpture. Van Aken sculpts his trees through his grafting with a specific aesthetic objective. The variety of fruit blossoms allows the tree to blossom continuously for a month each spring. But, its properties as a sculpture are not quite as important as the concepts Van Aken explores through his trees.
The Tree of 40 Fruit is a work of conceptual art, meaning that the concepts the artist explores are of equal importance to the thing itself. Conceptual art reaches beyond the tangible object.
Another example of conceptual art at The Rockwell Museum is Marie Watt's Blanket Stories: Western Door, Salt Sacks, and Three Sisters which you'll encounter on the Musem's third floor. Blanket Stories is as much about the individuals who contributed blankets as it is about the blankets themselves.
 Van Aken's concepts for his Tree of 40 Fruit series include nature conservancy, food diversity and community.
A Living Work of Art
The Rockwell Museum joins the other institutions and private collections who now steward a living work of art. We invite you to stop and see the tree on a stroll through Corning, but please show this unusual piece of our collection the same respect you would a sculpture inside the Museum walls. For more information on the tree from the artist's perspective, check out this Ted Talk by Sam Van Aken.
Tree of 40 Fruit no. 87 was purchased with funds donated by Jeff Evenson and Karyn Cepek, Thomas Halgash and Laura Coleman, and the Clara S. Peck fund. Thank you for your support!