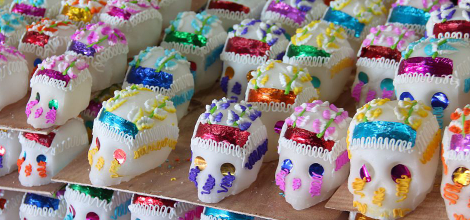 This month in the Art Lab, we are celebrating Día de los Muertos (Day of the Dead). Día de los Muertos is an annual celebration in Mexico and throughout Latin America. People who celebrate believe that the spirits of their deceased loved ones return to visit on November 1 and 2. To encourage spirits to visit, families build ofrendas—tables covered with colorful decorations, photos, and the deceased's favorite food, toys, and clothing.
One of the most popular items on an ofrenda is a sugar skull, or calavera. Sugar skulls are made of sugar and egg white pressed into a mold. They are intricately decorated with brightly colored icing, foil, sequins, and candies. Sugar skulls are not considered morbid or scary and are meant to celebrate life.
Stop by the Art Lab to see our Community Ofrenda and create your own sugar skull artwork! We're using craft foam, paint sticks, and black paper to make festive stamped sugar skull cards. After printing your stamp on the card, add a flower crown using shiny paper and tissue paper. Write a message to a friend or family member inside your card!
You can also make a real sugar skull, along with enjoying Day of the Dead-themed crafts, activities, and foods during our Day of the Dead Celebration on October 21. Event information and registration is available here.
You can make this project at home with a few special materials and the instructions below.
Materials
Cardboard square (a recycled shipping or cereal box works well!)
Craft foam (either plain or sticky-backed, available on Amazon or at a craft store)
Pencil
Paint sticks or liquid paint + a foam brush
Cardstock paper
Shiny paper or tissue paper for decorations (wrapping paper scraps are great!)
Liquid glue
Skull template (download template)
Instructions
Trace a skull shape onto a piece of craft foam. Cut around it and glue the skull to a piece of cardboard. TIP: cut up an old cereal box to create a perfect backing for your stamp!
Use a pencil to draw designs on your skull. Press hard enough to leave an impression, but not so hard that you tear the foam. A dull pencil works well for this! TIP: you can also use a pen with a retractable tip to create your designs. Make sure the tip of the pen is "in" when you draw!
Use a tempera paint stick to coat your stamp with a layer of paint. No paint sticks? Use a foam brush to add a thin layer of liquid paint to your stamp. Don't add too much—putting thick paint on the stamp will fill in the designs you drew, resulting in a gloppy print. You can also use an ink pad!
Fold a piece of cardstock in half and center it over your stamp. Press the paper down firmly. Take the heel of your hand and rub it over the entire piece of paper. Be sure to press down on all the edges of your stamp.
Gently peel the paper back from the stamp, starting at one corner. You will see your sugar skull design, printed in reverse on the paper!
Cut out pieces of shiny paper, construction paper, or tissue paper to create flowers. Glue them around the top of your skull, or around the edges of your card for extra decoration.
Add a message to the front or inside of your card. "Feliz Día de los Muertos" is how you say "Happy Day of the Dead" in Spanish!