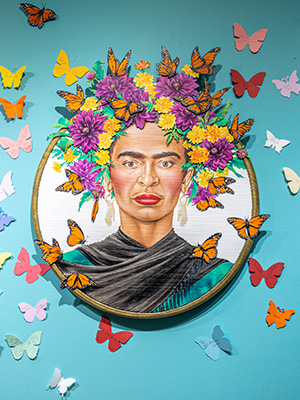 The Rockwell Museum celebrates Día de los Muertos / Day of the Dead annually, connecting the arts to honoring and remembering loved ones. On this page you'll find a variety of educational videos, projects and resources by all the wonderful community partners we collaborate with each year.
Día de los Muertos is a festival of "welcome" for the souls of the dead, celebrated on November 1 and November 2 each year. The celebration is prepared and enjoyed by the living and honors those who have passed. The customs surrounding this celebration are based on ancient traditions traced to the Aztec civilization in Mexico. Today, there are large Mexican communities across the United States where Día de los Muertos is widely celebrated.
You might wonder, what does this celebration have to do with a Museum about the American experience? Many Mexican-born people or Latinx people with Mexican heritage now live throughout all 50 United States. There are many Latinx people living in the US with Mexican heritage, so it is widely celebrated across the US and therefore is part of the American experience.
The Rockwell's Education Department continues to partner with area schools and Spanish teachers throughout the month of October every year. Students from the surrounding region either visit the Museum for a Día de los Muertos tour or participate in an outreach program, connected to themes of loss and remembrance. As part of the school tour visits and outreach programs, students create projects inspired by artwork in the Museum's collection and Mexican folk-art traditions. The Rockwell's program integrates cultural traditions with classroom education and creates an opportunity for students to connect an artistic experience with traditional learning.