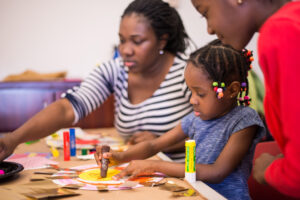 It's a new year, and we're excited to announce new activities in the Family Exploration Studio, a space where visitors of all ages can drop in and try their hand at an art project, draw on the light table, put together puzzles and read together in the book nook. The projects always connect to the art in our galleries, and seasonally rotating activities allow families to drop in again and again! 
This winter, draw a still life or portrait, design a vessel, solve a magnetic magnetic puzzle featuring a painting from our collection, and have fun creating your very own one-of-a-kind pattern design.
Draw Inspiration from Our Exhibitions
Draw your own still life or portrait
Get inspired by our special exhibition, Perspectives of the American Experience: A National Exhibition of Women Artists, and try your hand at drawing your own still life or portrait.
 
Design your own glass vessel
Use the Frederick Carder Steuben Glass on view on the ground floor as an example and come up with your own design for a glass vessel.
 
Have fun creating your own one-of-a-kind pattern!
Many traditional Native American artifacts have colorful patterns with many different shapes and designs. Create your very own design for a ceramic pot, woven basket or rawhide container.
 
Explore beadwork design
Design with large magnetic "beads" that make beadwork easy for visitors of all ages. Visit the third floor Haudenosaunee (Iroquois) Gallery to see traditional beadwork designs for inspiration.

Match a Track, Solve a Puzzle, or Read a Book
Play Match a Track, a matching game pairing wildlife with their tracks (if you like it, buy one to take one home with you from the Museum Store). Solve a magnetic puzzle featuring Benny Andrews' painting, Hey (The Langston Hughes Series). The original painting is on view in our Modern & Contemporary Gallery. If you need a break from activities, enjoy some winter-themed books in our quiet Book Nook.
See the other reasons why the Rockwell is the perfect addition to a family-friendly day-trip.