November 10, 2021
Wendy Red Star Series Join

s

 Rockwell Museum Collection

 and 

Headlines 2022 

Exhibition Schedule
The Rockwell is proud to announce the acquisition of a suite of 15 prints by Wendy Red Star (Apsáalooke /Crow, born 1981) to the permanent collection. The Accession series will be on view at the Museum as a spotlight exhibition May 28 through September 5, 2022, and be a centerpiece to the Museum's annual theme —SPARK! From Inspiration to Creation. 
In 2022, all of the Museum's exhibitions and programs will explore how artists harness their unique perspective from the tiniest spark or ember of inspiration to forge a complete creative body of work.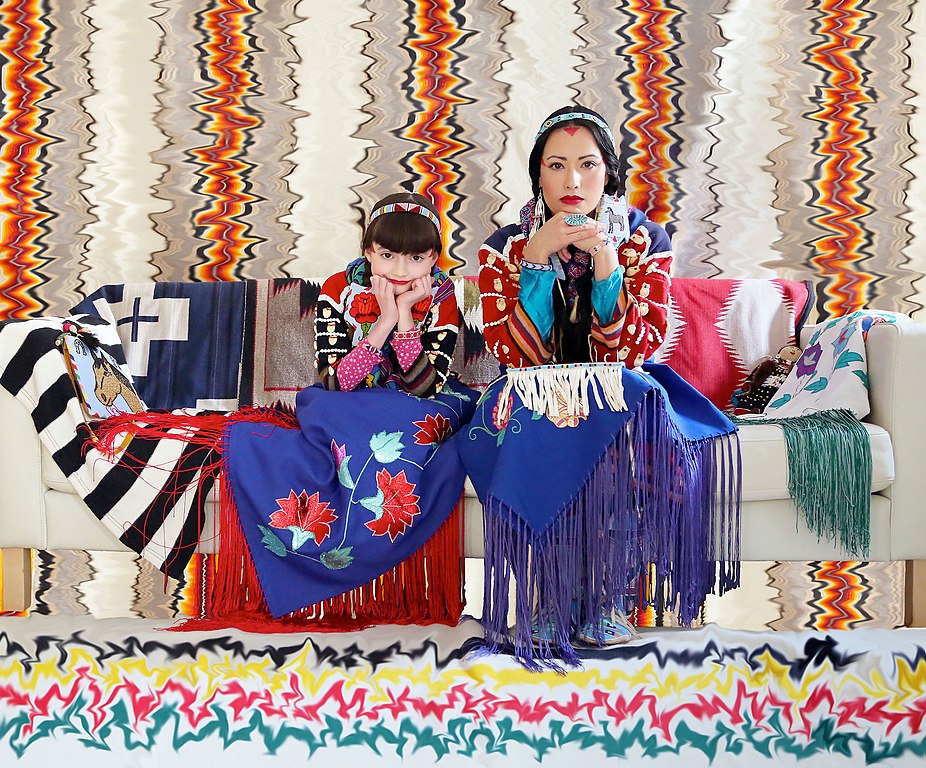 Raised on the Apsáalooke (Crow) reservation in Montana, Red Star's works across disciplines, including photography, sculpture, video, fiber arts and performance, to explore the intersections of Native American ideologies and colonial structures. Red Star researches historic archives and oral traditions in order to incorporate them with her research to create new and unexpected perspectives. Intergenerational collaboration is central to her artistic practice, working frequently with her daughter, striving to create space for Native women's voices within the context of contemporary American art. 
Accession evolved out of Red Star's Native Artist in Residence fellowship at the Denver Art Museum in 2016/2017. While in residence, she used object card catalogs to research the museum's holding of Native objects. These records had been created by anonymous Works Progress Administration artists beginning in the 1930s, and included beautifully rendered watercolors depicting the objects, like clothing and objects of personal regalia, alongside written descriptions. 
"I felt a connection with the artists who created the work, and I was jealous of the time they got to spend with my ancestors' materials…I am amazed by the similarities in the coupling of a photograph of a martingale on my daughter's parade horse with a WPA artists' brilliantly crafted drawing of a beaded geometric martingale from the 1930s."

-Wendy Red Star
Red Star brought digital copies of the cards to the Apsáalooke reservation during their annual Crow Fair in Montana. More than 11,000 enrolled tribal members (almost 80 percent of the Crow tribe) attend the fair along the banks of the Little Bighorn River. Members gather for a daily parade symbolizing the moving of camp, an action stemming from the deep-rooted Apsáalooke culture of movement. Families put on traditional dress and display their horses during rituals that recall the historic migrations from summer to winter camps. These parades pass on traditions from horse culture to car culture and weave each generation into the fabric of a living and resilient Nation.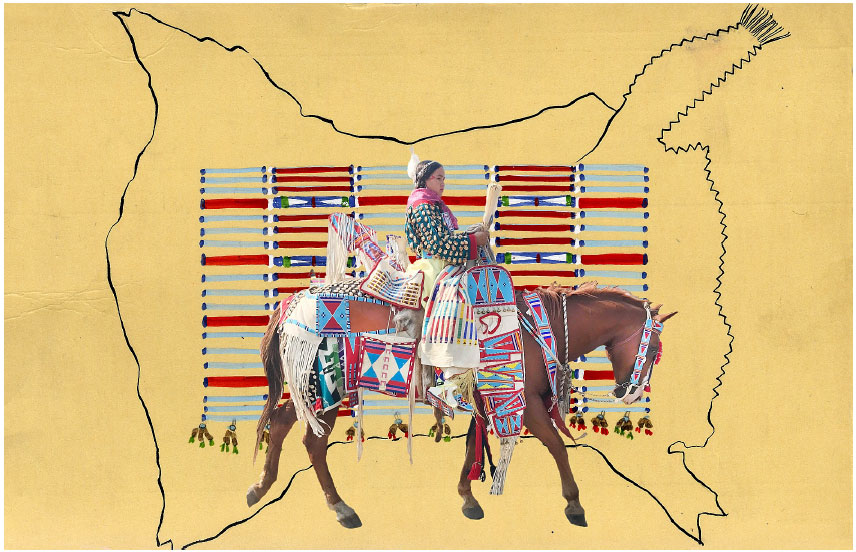 The photographs Red Star took at the Crow Fair were later collaged with the reproduced images from the painted catalog cards from the Denver collection. The resulting series is stylistically consistent in composition and palette, featuring an object of material culture worn by a contemporary figure. 
Red Star focuses attention on the details of the objects' artistry: colorful beadwork, geometric patterns, and designs inspired by the natural world. Superimposed over these are images of women wearing elk tooth dresses, men wearing feathered back bustles, and both horses and cars adorned in a similar fashion. Although the dominant historical narrative has threatened to erase Native identities, Red Star's work presents the Apsáalooke culture as vibrant and thriving in a contemporary context.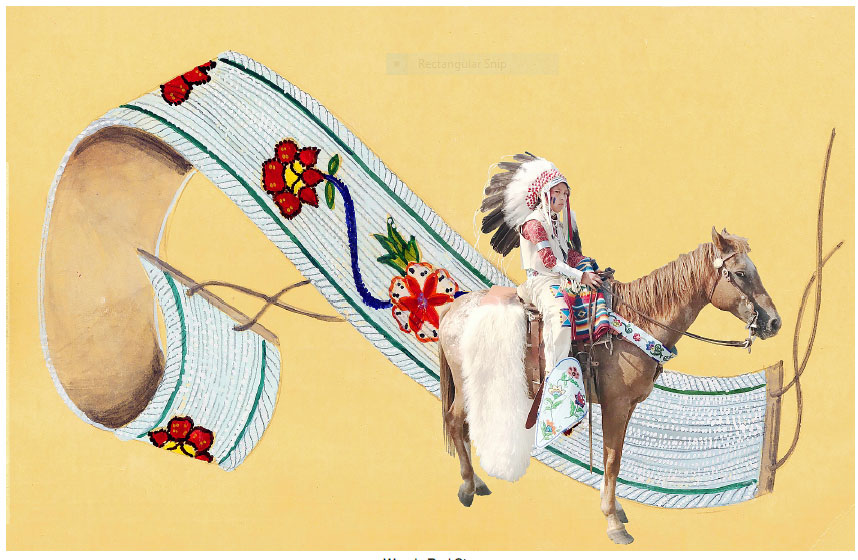 In Accession, Red Star found a spark of inspiration in something potentially mundane to the average viewer—an anonymous card catalog entry—and fanned the flames, evolving and nurturing the idea into a powerful, layered series honoring the artistry of the original Native makers who crafted the objects, the anonymous artists who cataloged them, and the Apsáalooke culture that continues to create and wear similar objects today.

This body of work is an exciting addition to the Museum's storytelling, in part because it combines images of historic objects with contemporary Indigenous culture. This aligns in an important way with how The Rockwell exhibits, interprets and shares Native American art.

Red Star's work will also enhance multiple areas of need as we work to diversify the permanent collection to include more contemporary works, Native American perspectives, and works by women and artists of color. We were so pleased to work with Sargent's Daughters gallery to make this acquisition.

-Kirsty Buchanan, curator of collections
In tandem, the KIDS ROCKWELL Art Lab will transform to present Wendy Red Star: Children Of The Large-Beaked Bird, on loan from MASS MoCA June 17 through October 17, 2022. This interactive exhibition designed for youth and families offers accounts of American history that rectify the frequently flawed narratives about Native people. The Children of the Large-Beaked Bird exhibition provides an opportunity for adults and children to look at history and representation with fresh eyes to spark meaningful dialogue.  
We are very proud to present both of these opportunities for our visitors and local residents to experience the unique perspective of Wendy Red Star. Stay tuned for more announcements around the Museum's annual theme, program calendar and exhibitions calendar.