The Rockwell strives to reflect the diverse cultural fabric of America within our galleries, and the continuous evolution of the permanent collection is critical in bringing our mission statement to life. Here's a look back at some exciting acquisitions from 2021. 
---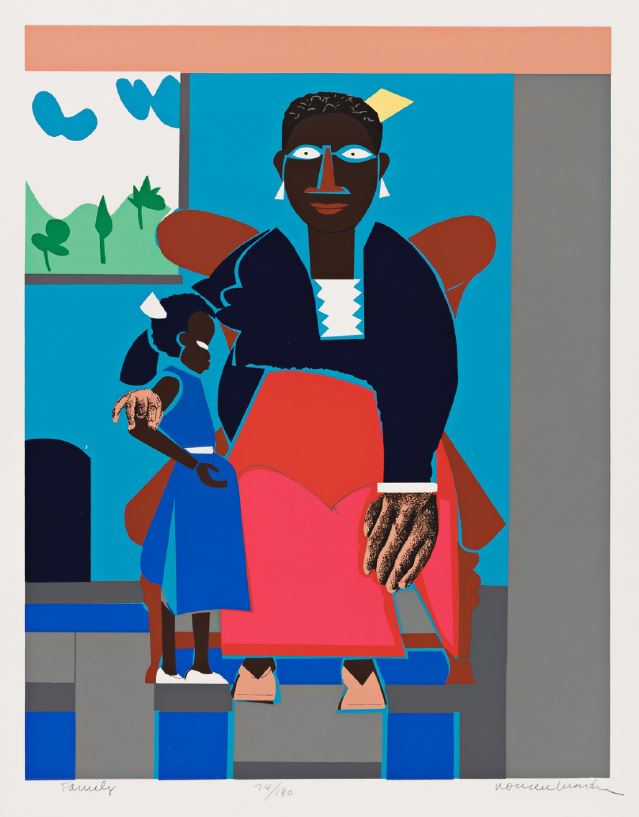 Romare Bearden was a master printmaker who embraced a vast array of processes: engraving, lithography, etching, dry point, aquatint, collagraph, screenprint, monoprint and photo projection. In addition to printmaking, he painted and worked extensively in collage. His work was greatly influenced by his African American heritage and he drew upon personal experience, mythology, memories of childhood,  home, and the lasting guidance of the matriarchs of his family.
Bearden was an only child born into a successful African American family and raised in his maternal great-grandparents' home in Charlotte, North Carolina. His education and artistic talents were encouraged from a young age. He earned a bachelors' degree from NYU and a masters' degree from Columbia before studying at the Art Students League with George Grosz. Bearden served in the infantry during World War II and was later able to attend the Sorbonne University in Paris as part of the G.I. Bill. During his time in Paris, Bearden sought out professional relationships with Braque, Matisse and Brancusi; their influence is seen in elements of his mature style.
As an adult, Bearden returned to the stomping grounds of his childhood in North Carolina. His 1976 visit resulted in the "Mecklenburg County Series" that was produced between 1978 and 1979. Bearden dredged his memories to produce images of home, childhood, African American culture, mythology and southern ritual. While The Conversation, another Bearden work in the Rockwell collection, is not part of the Mecklenburg County Series, there are strong parallels compositionally and thematically.
Printmaking allowed broader access to Bearden's work and expanded his potential audience. His prints feature flat fields of saturated color that reflect the techniques of collage. Pattern is also applied as a flat plane, frequently seen ornamenting clothing for the predominantly female figures that populate his work. Bearden was known to blend different printmaking methods in one work, layering them one upon the other to achieve a desired texture and depth. His experimentation as a printmaker has been likened to the improvisation of a jazz musician, appearing spontaneous although meticulously and technically studied.
---
Grace Hartigan's biographers cite her "ruthless" ambition to become an artist. However, many of her male peers took much the same actions in pursuit of their goal and were never so harshly criticized. Once she decided she wanted to be a painter, Hartigan systematically removed all obstacles in her life that stood in the way of that career.
Without the constraints of formal art education, Hartigan was free from the academic restrictions that many artists of her generation struggled against. Her inspiration was the surrounding world, specifically the streets of New York. The color, movement, and expression of the vibrant city became her muse. Throughout her career, Hartigan's large-scale paintings were always inspired by the natural world even though they were abstract.
She met other young artists of her generation and slowly became connected to the blossoming New York art scene. Through friends, Hartigan met Jackson Pollock, Lee Krasner, Willem de Kooning and his wife Elaine. These first-generation Abstract Expressionist artists filled in the gaps of her formal training provided inspiration and invited her artistic response to the emerging conversation.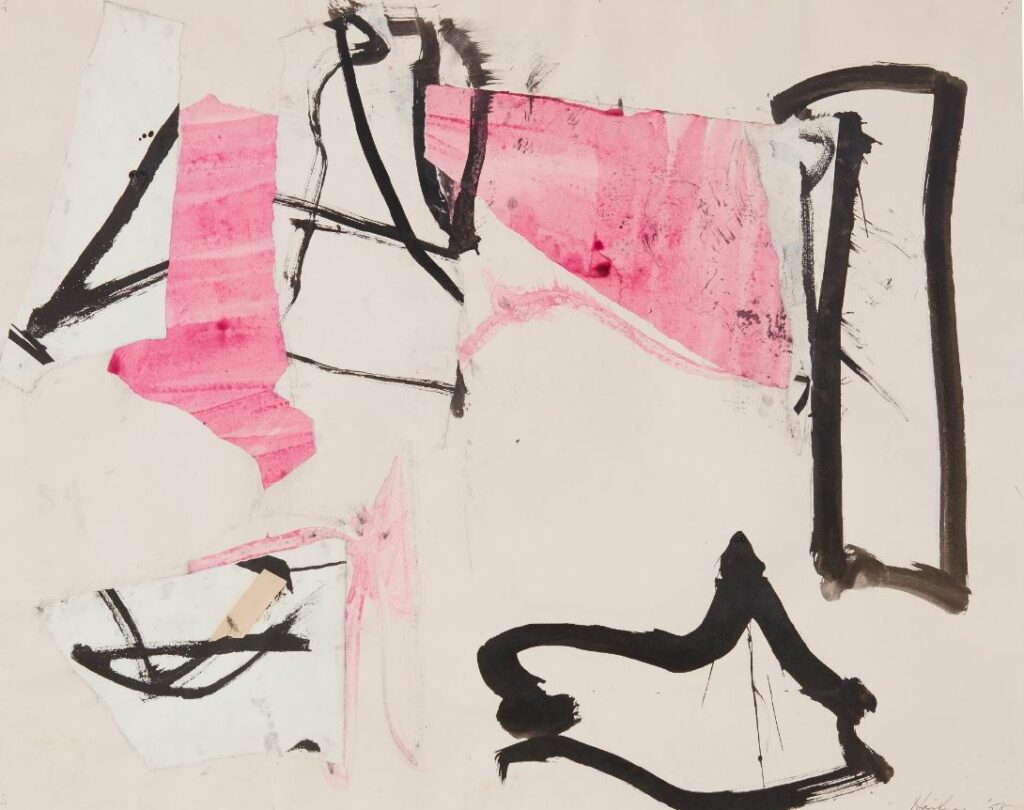 In Mirror, Hartigan uses thickly loaded brushes and wide, energetic strokes to fill the blank paper. The limited palette of black and white is enhanced with only a single color: pink.
The theme of the mirror explores a very personal subject matter and can be viewed as an abstract reflection of Hartigan's self-image. Perhaps, even a self-portrait.
The color pink has not always been associated with the feminine throughout modern western history. An exploration of western fashion reveals that pink was freely used for both men's and women's clothing until the early 20th century. However, in post-war America, the perception of pink had evolved to become a color overtly associated with women, female identity and the private domestic interior. Hartigan incorporates pink, possibly as a reference to her own gender identity, but harnesses it to activate this geometric composition of angular black lines. It is tempting to read the palette of this work, in partnership with its title, as the embodiment of a dynamic woman artist who has fought for professional success without compromising any portion of herself.
---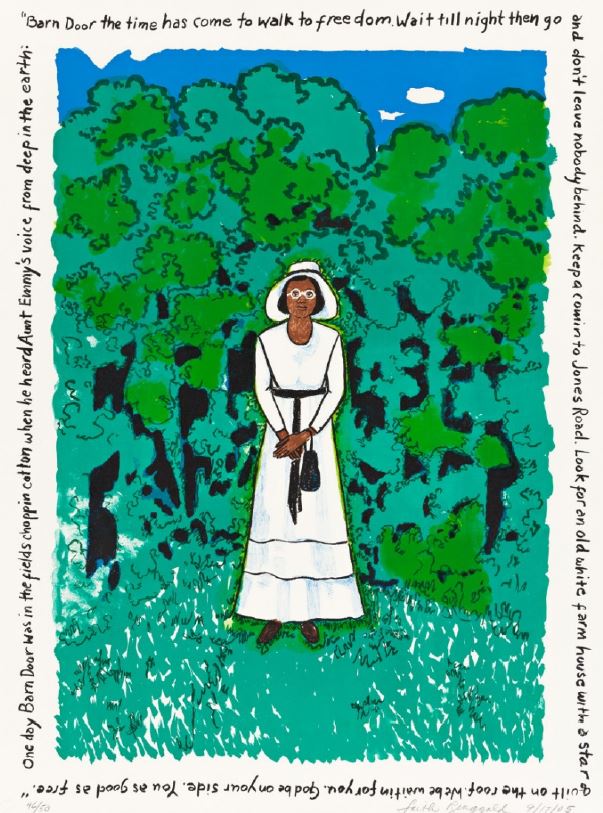 Faith Ringgold is an American painter, mixed media sculptor, performance artist, writer, teacher and activist. Her family was part of the Great Migration of African Americans that relocated north during the Jim Crow era, and she was born in Harlem during its artistic Renaissance.
Her father was a minister and a great storyteller; her mother was a fashion designer who passed on a talent for sewing. Ringgold learned how to quilt from her grandmother who had learned from her mother, a formerly enslaved woman. This family legacy would later surface as artistic inspiration for Ringgold. She attended the City University of New York, where she studied with Robert Gwathmey and Yasuo Kuniyoshi. Early in her career Ringgold created political paintings, moving into soft sculpture and later quilts. Her travels to Nigeria and Ghana in the late 1970s are what she cites as the greatest influence on her work.
The print Aunt Emmy is based on the 2005 quilt by the same title from Ringgold's Coming to Jones Road #7  series. The phrase "coming to Jones Road" references Ringgold's 1992 move from Harlem to Englewood, New Jersey. Her arrival as a black woman in the community was met with resistance that she would be a threat to the quality of life in the neighborhood. Much of Ringgold's work explores themes of feminism, African American culture, race and family dynamics – sometimes challenging and difficult.
The work Aunt Emmy is ringed by a line of text, a trademark technique of the artist, that presents a fictional narrative for the image and adds to the continuing story of the Jones Road Series:
"One day, Barn Door was already in the fields choppin cotton when he heard Aunt Emmy's voice from deep in the earth: 'Barn Door, the time has come to walk to freedom. Wait till night then go, and don't leave nobody behind. Keep a comin to Jones Road. Look for an old white farmhouse with a star quilt on the roof. We be waiting for you. God be on your side. You as good as free!'"
---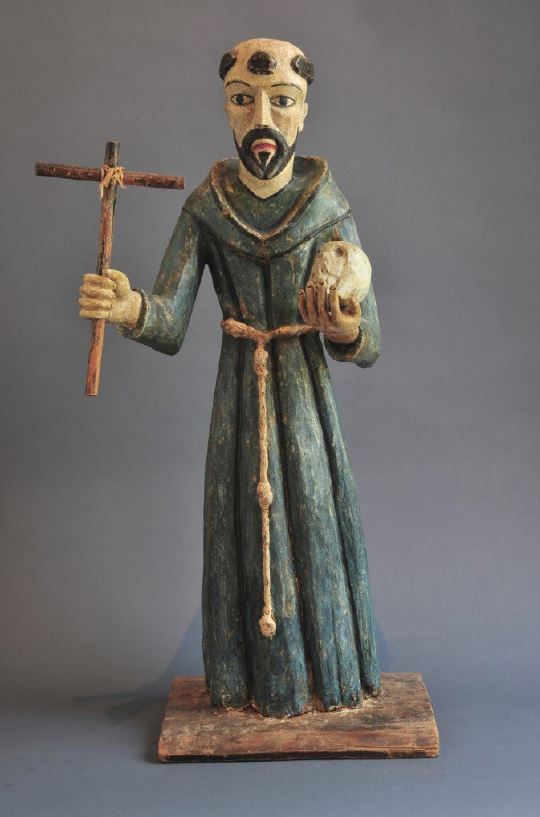 This northern New Mexican santo, or religious statue, would have been placed in a Catholic church, shrine or private chapel. These devotional figures were carved by woodworkers as visual aids to prayer. The maker of this santo was recently discovered as being José Manuel Benavides. Benavides was active in Northern New Mexico during the mid-19th century. Previously known only as the Santo Niño Santero, Benavides is one of the premier Santeros, or santo carvers, of his time and produced many unsigned woodcarvings that are consistent in style.
Best known as the patron saint of animals, Saint Francis is also the patron saint of New Mexico and the founder of the Franciscan Order. King Charles III sent the Franciscans to the territories of New Spain to set up the mission system and convert the indigenous people to Christianity. This established a system of forced conversions, oppression and violence towards Native populations at the hands of European colonizers. Here, Saint Francis is holding a skull and a cross, visual icons that suggest two choices: convert or die.
This carving of St. Francis follows an established method of production that was set by 18th-century santeros. The santo is hand-carved from either pine or cottonwood, covered with a smooth gesso layer, and then painted with natural pigments. Francis is dressed in the classic blue Franciscan robe typical of New Spain. The rich blue of the robes was achieved with a natural indigo paint. During the Spanish colonial period, the Franciscan Order switched to wearing blue robes as indigo dye was easier to import from Mexico City.
This santo of St. Francis is an excellent example of Benavides's mature style. The face is classically carved with large prominent eyes, and traces of color are still visible on the figure's cheeks. The body is naturalistically carved and features a finely crafted Franciscan cord belt encircling the waist, one of the Benavides's trademarks. This object will be the first example of Spanish Colonial art from New Mexico that has been accessioned into The Rockwell's collection. The addition of this work adds broader historical and narrative context to the works on view in the Museum's Southwest Lodge.
---
Raised on the 
Apsáalooke
(Crow) reservation in Montana, Wendy Red Star
's
 works across disciplines, including photography, sculpture, video, fiber arts and performance, to explore the intersections of Native American ideologies and colonial structures. Red Star researches historic archives and oral traditions in order to incorporate them with her research to create new and unexpected perspectives. Intergenerational collaboration is central to her artistic practice, working frequently with her daughter, striving to create space for Native women's voices within the context of contemporary American art.
Accession evolved out of Red Star's Native Artist in Residence fellowship at the Denver Art Museum in 2016/2017. While in residence, she used object card catalogs to research the museum's holding of Native objects. These records had been created by anonymous Works Progress Administration artists beginning in the 1930s, and included beautifully rendered watercolors depicting the objects, like clothing and objects of personal regalia, alongside written descriptions. 
"I felt a connection with the artists who created the work, and I was jealous of the time they got to spend with my ancestors' materials…I am amazed by the similarities in the coupling of a photograph of a martingale on my daughter's parade horse with a WPA artists' brilliantly crafted drawing of a beaded geometric martingale from the 1930s."

-Wendy Red Star
Red Star brought digital copies of the cards to the Apsáalooke reservation during their annual Crow Fair in Montana. More than 11,000 enrolled tribal members (almost 80 percent of the Crow tribe) attend the fair along the banks of the Little Bighorn River. Members gather for a daily parade symbolizing the moving of camp, an action stemming from the deep-rooted Apsáalooke culture of movement. Families put on traditional dress and display their horses during rituals that recall the historic migrations from summer to winter camps. These parades pass on traditions from horse culture to car culture and weave each generation into the fabric of a living and resilient Nation. 
Red Star focuses attention on the details of the objects' artistry: colorful beadwork, geometric patterns, and designs inspired by the natural world. Superimposed over these are images of women wearing elk tooth dresses, men wearing feathered back bustles, and both horses and cars adorned in a similar fashion. Although the dominant historical narrative has threatened to erase Native identities, Red Star's work presents the Apsáalooke culture as vibrant and thriving in a contemporary context.  
The Accession series will be on view at the Museum as a spotlight exhibition May 28 through September 5, 2022, and be a centerpiece to the Museum's annual theme —SPARK! From Inspiration to Creation.