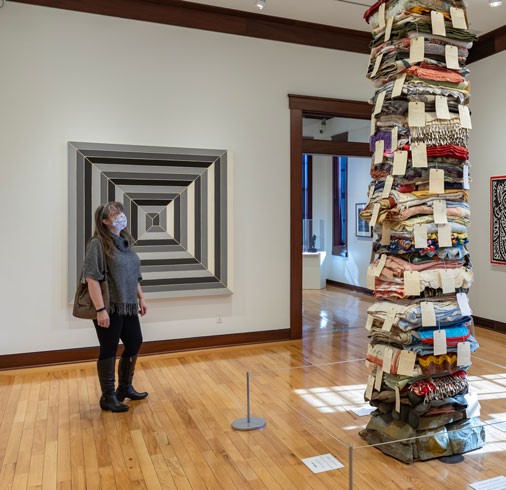 The Rockwell Museum honors Indigenous Peoples Day to recognize the first inhabitants of this land and include all people in our nation's history. The Rockwell is located on Onödowa'ga:' (Seneca) land, and we strive to acknowledge the rich history of this region and the Haudenosaunee people.
Indigenous Peoples Day provides an opportunity to celebrate the many Native American artists featured in The Rockwell's collection while acknowledging community partnerships. Today, we take a look back at some recent program, exhibition and collection highlights, as well as resources available year-round.
The history of our nation is intertwined with Indigenous communities and traditions, and we are actively rethinking how we interpret and communicate with our audiences. Celebrating Indigenous Peoples Day is part of a growing movement to honor Indigenous communities and their resiliency through centuries of violence and dismissed identity. At The Rockwell, we recognize that this work requires being adaptable and that it is ongoing.
One important aspect of museum work to honor and respectfully work with tribal partners is complying with the Native American Graves Protection and Repatriation Act (NAGPRA). This means The Rockwell does not have any burial or human remains, masks or sacred objects in our collection. NAGPRA is a federal law that was passed in 1990 that requires museums to inventory their collections and repatriate, or return cultural items, back to the lineal descendants or affiliated Nations of which they belong. This is a necessary and respectful action to foster honest relationships with transparency. Collections stewardship is essential for The Rockwell, as we aspire to act ethically and responsibly, connect with local Native American Nations and be civically engaged in the community.
Art is an expressive lens to share aspects of intangible cultural heritage such as language, dance, music, ceremonies, festive events, knowledge of traditions and craftsmanship skills. Cultural traditions continue to transform and evolve – they are not frozen in time. Traditions are passed down generationally and influenced by elders in communities, as well as our natural, built and social environments. By activating ideas, voices and perspectives connected to artwork in the collection, we hope to inspire people and cultivate a vibrant community of engagement and conversation.
---
Collection Connections
The Rockwell's collection features artwork created by many Native American artists, with ongoing strategic planning to be inclusive and represent more cultural artists that are often underrepresented in museums. Here are some of our most recent acquisitions.
[smartslider2 slider="170″]
---
Recent Virtual + In-Person Programs
Native Nations Festival – September 18, 2021
While the Native Nations Festival was put on pause in 2020, we were eager to once again partner for this annual gathering at Watson Homestead organized by the Seven Generations of Stewards. Rockwell Museum educators set up at the festival each year so visitors can try their hand at different Native American games. We look forward to this special partnership each year!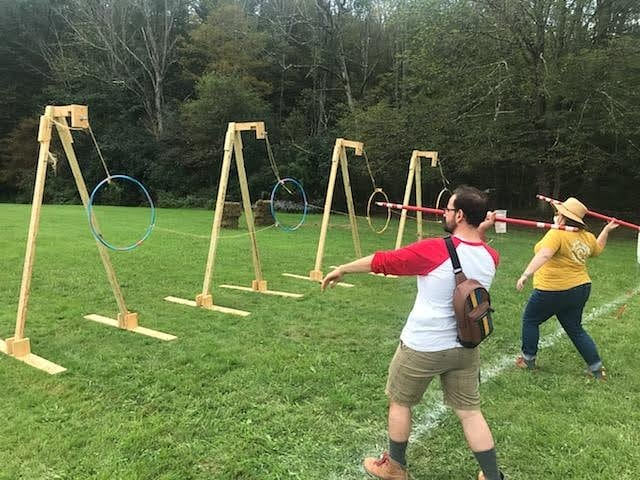 Revolt Lecture by Virgil Ortiz, Cochiti Pueblo Artist – Livestreamed on March 25, 2021
Virgil Ortiz has masterfully redefined what it means to be a contemporary Native American artist navigating the global art world while staying connected to his artistic Pueblo traditions. Ortiz's epic retelling of the 1680 Pueblo Revolt unfolds bit by bit, illustrating past and present-day social issues. This conversation and showroom tour explored Ortiz's work, creative process and innovative artistic style.
Believe Me: A Live Discussion with Jaclyn Friedman, Bonnie Clairmont and Sarah Deer – Livestreamed August 5, 2020
In continuation of The Rockwell's 2020 theme, Advancing Women, the Museum was pleased to partner with Card Carrying Books & Gifts to present Believe Me: A Live Discussion with Jaclyn Friedman, Bonnie Clairmont and Sarah Deer. Moderated by The Rockwell, this panel discussed the pivotal work, Believe Me: How Trusting Women Can Change the World. The book brings together two dozen writers to make a case for the revolutionary power of a simple idea: That we should structure our society as if women's lived experiences and insights were just as important and reliable as men's. Revisit this compelling discussion!
---
Educational Resources for Families, Youth and Teachers
Virtual and In-Person School Tours
Rockwell educators and volunteers provide a Grade 4 Haudenosaunee (Iroquois) Arts & Culture tour to hundreds of students annually. This program supports the 4th Grade Common Core Social Studies curriculum, connecting local, New York State, and United States history, focusing on Native Americans of New York State. In the past year, The Rockwell has worked to make many of the tour resources available online so educators and youth across the country can access these resources. 
This video designed for Grade 4 focuses on baskets, pots, moccasins and more are made, all from what nature provided. The skills you will learn about in this video continue to be used in their reciprocal relationship with the land and acknowledge and honor nature's gifts. More virtual tours
Rockwell Reimagined Student Exhibition + Virtual Tour
In collaboration with art teachers of the Corning-Painted High School (CPP), The Rockwell created Rockwell Reimagined, a virtual tour designed for Grades 9-12 high school students. The tour explores contemporary works of art by artists Virgil Ortiz and Kara Walker, both featured in the Museum's collection. Participants explore artwork in-depth with Rockwell educators connected to themes of the environment, appropriation and social justice, and examine how American artists express their ideas in a variety of media.
This video looks specifically at Ancient Elder by Cochiti Pueblo artist Virgil Ortiz, and how he illuminates important issues about the environment through sculpture.
In 2021, this virtual tour evolved also into a student exhibition by Studio in Art B students of CPP High School, where students reimagined works of art in The Rockwell's collection and appropriated them to convey a message. See virtual exhibition
Art on the Go!
Since July 2020, The Rockwell has distributed thousands of Art on the Go kits to visitors and community members. These free kits contain everything you need to create a special project connected to the exhibitions and collections at the Museum. They are also designed to be recreated easily with common household art materials. The instructions for each kit are archived on our website, to be accessed by anyone at anytime.
Mythical Beings | Available at The Rockwell Starting October 8, 2021 while supplies last!
Inspired by Abraham Anghik Ruben
CLICK FOR PRINTABLE INSTRUCTIONS Abraham Anghik Ruben is a North American artist of Inuit descent. He creates work depicting shamans transforming into animals important to his culture. In this project, consider what animals represent you or your family, then use your imagination to create a mythical being drawing and collage.
Carving an Eagle Head Out of Ivory Soap
Created by Hayden Haynes, Onödowa'ga:' – Deer Clan
CLICK FOR PRINTABLE INSTRUCTIONS Practice the art of subtraction by carving your own eagle head. Follow the carving guide to gain knowledge and experience in cutting and shaping solid soap into a 3D artwork. Using the workable material of Ivory soap, have fun creating a unique piece in a relatively short period of time. Ivory soap is readily available, making it easy to continue to practice carving skills anytime. 
Native American Inspired Rattle
CLICK FOR PRINTABLE INSTRUCTIONS

Rattles have been used throughout the world to help keep rhythm during tribal dances and ceremonies. Native American rattles date back to historic times. They were the perfect accompaniment to Native American ceremonies, which often included dancing. The rhythm the rattle helps keep during the dance is unforgettable – something that resonates to the very soul, helping make the ceremony a spiritual experience.
---
Explore More
SMITHSONIAN NATIONAL MUSEUM OF THE AMERICAN INDIAN
NATIVE KNOWLEDGE 360° (NK360°)
Smithsonian Magazine Blog – Rethinking How We Celebrate American History