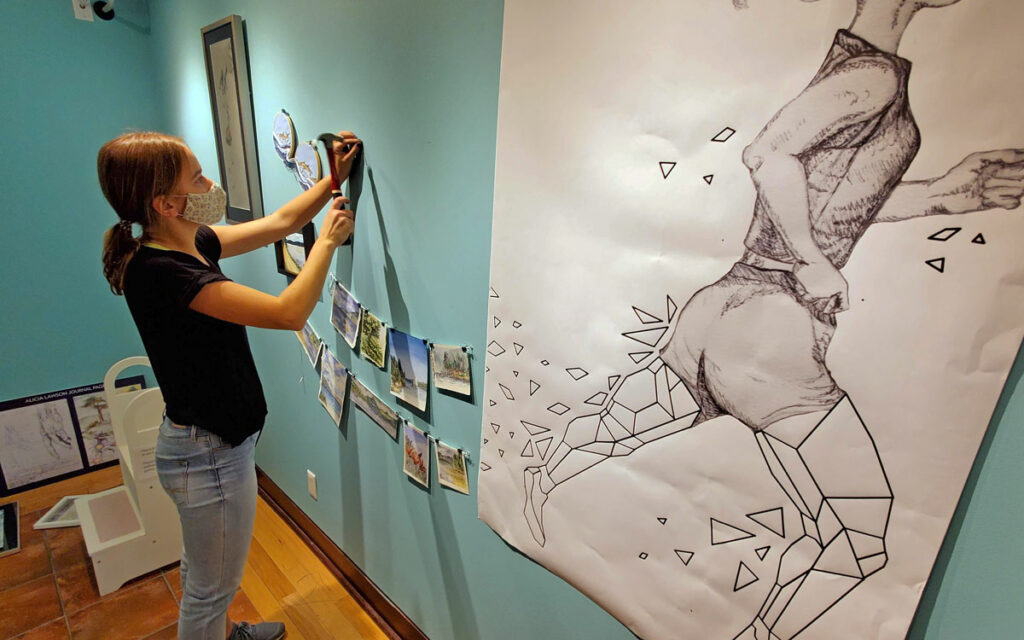 In collaboration with the Corning-Painted Post High School, The Rockwell Museum presents this special virtual exhibition featuring eight students from the IB Visual Arts Diploma Programme. Under the direction of art teacher Sharron Holland, eight Higher Level (HL), two-year program students are featured in this digital presentation of their artwork.
It is important to recognize the outstanding work and achievements of the students in the IB Art Diploma Programme, so we are showcasing their amazing, self-curated exhibitions of art online; their artwork is also on view in The Rockwell's Student Gallery through May 2, 2021. 
As part of the program, students studied artwork from a variety of museums, including The Rockwell, to draw inspiration for their own works of art. Traditionally, students would visit museums in the region, but during the COVID-19 pandemic this was not possible due to travel restrictions and many museums having to close their doors temporarily. Instead, students worked virtually. They persevered through a challenging time, and their artwork demonstrates how creating can be a healing and expressive emotional outlet during a crisis. Students also kept a detailed journal to record their project research and write about, develop and sketch their ideas.
Congratulations to Alicia Lawson for completing the IBHL program this year!
As a graduating student, Alicia Lawson curated and installed her exhibition under the direction of art teacher Sharron Holland. This hands-on aspect of the IB program provided her with a broader sense of the many facets of the professional art world.
"In creating my body of work, two common threads naturally emerged. In selecting the pieces to exhibit, I reflected on the experience of the viewer to determine the overall message I hoped to convey. In creating this exhibit, I sought to use the motif of line to express the connections between the disciplines of art and science. 

At the core of both the visual arts and the natural sciences, there is an undeniable common ground to be found in the drive to explore, discover, and understand the world around us. Throughout my body of work, I explored the web of connections between these areas in my own life and the wider world. My artwork depicts the external environment through landscape and seascape paintings, the interaction of animals and humans within this environment through portraiture, as well as internal anatomy through medical illustrations. Throughout my artistic process, I draw inspiration from my family, my faith, and the natural world while exploring my love for science through art."
[smartslider2 slider="160″]
Alicia Lawson – Full Curatorial Rationale
Congratulations to first-year students Molly Bierman, Jason Case, Olivia Gilbert, Olivia Grinnell, Sophia Hollasch, Carolina Marian, and Jaelyn Snyder!
Each first-year program student has two artworks on view in The Rockwell's Student Gallery.
[smartslider2 slider="161″]
First-Year Students – Full Curatorial Rationales
The IB Diploma Programme encourages students to challenge their creative and cultural expectations and boundaries. It is a thought-provoking course in which students develop analytical skills in problem-solving and divergent thinking, while working towards technical proficiency and gaining confidence as art-makers. 
The Rockwell is pleased to host this exhibition and support local students who want to pursue studying visual arts in higher education as well as those who are seeking lifelong enrichment through visual arts.