November 17, 2014
CORNING, NY – When you pass by The Rockwell Museum, you'll notice a whimsical addition to an already imaginative building façade.  Just in time to battle Old Man Winter, Artemus, the buffalo bursting through the front of The Rockwell, is fitted with a blue and white stocking cap, complete with a playful pompom. 
Organized by Jean Gray, owner of Wooly Minded on Market Street in Corning, some 30 knitters came together to create the hat for a few reasons; 1) Artemus must get cold up there! 2) to build a tradition (last year, Artemus was wrapped in a community-knitted red and green scarf) and 3) to add to the warm community charm of Corning.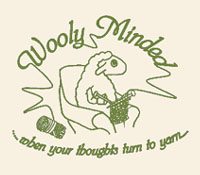 Created by local artist, Tom Gardner, Artemus was installed on the façade of The Rockwell Museum in 2000 and quickly became a favorite to both residents and visitors of Corning.  Adorning Artemus with festive accessories was always a floating idea among Rockwell staff. And then Jean, owner of Wooly Minded, made the dream become a reality.  Jean rallied 25 knitters quickly in 2013 to create Artemus' first accessory.  Now in year two, this artful community project not only adds to Artemus' spirited nature, but it also provides a creative way for the community to come together. 
But the fun doesn't stop at Artemus' hat. Wooly Minded also organized an all-call to the knitter-community for help in assembling a long scarf to be on display in The Rockwell Museum's store-front window.  Contributing fiber artists made a knitted square to be a part of this very large scarf.  Staff of The Rockwell is organizing a contest for visitors to come in, take a peek, and submit a best guess as to how many yards of yarn it took to create the eclectic scarf. A bonus especially during this shopping season, The Rockwell is giving away $150 store gift card to the lucky guesser. Stay tuned for details! 
This project is made possible by the QuickARTS mini-grant program administered by The ARTS Council of the Southern Finger Lakes and funded by the Community Foundation of Elmira-Corning and the Finger Lakes, Inc.
About Artemus 
For nearly 15 years, the façade of The Rockwell Museum building has been home to a bison named "Artemus."  In 1999, Tom Gardner – a well-known artist – received a $5,000 grant from The ARTS Council of the Southern Finger Lakes in order to create a fiberglass sculpture for placement on the exterior of The Rockwell.   Funding for the project was provided by The New York State Council on the Arts, which supported the design and fabrication of this whimsical creation — a bison bursting through the façade of the Museum building.  
Artemus received his name through a community contest when the name was selected because of its similarity to the phrase "Art is a must."  As you drive by Artemus, make a stop at The Rockwell to see how true this statement is.