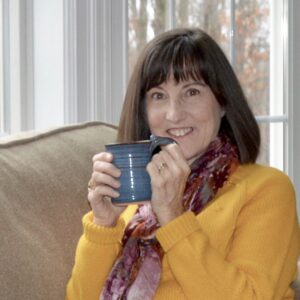 Susan Vermillion is a new volunteer at The Rockwell Museum. She attended the Volunteer Open House in October 2019 and has been learning about our collection and guiding students ever since.
Susan has a business background and is a prominent community member, volunteering her time at many organizations. She is personable and relates well to the students. We very much appreciate her joyous spirit.
---
Are you presently or have you volunteered elsewhere?  If so, where?
I currently volunteer at the Food Bank of the Southern Tier, the Friends of the Library and the Corning First Presbyterian Church along with The Rockwell Museum. 
Why do volunteers matter in our community?
Volunteers matter in all communities. As the saying goes, it takes a village, and each person has something to offer. Volunteering helps those who need what we have to offer and connects us to the community as a whole.
Why do you choose to give your time to The Rockwell Museum?
Art not only lifts our spirits but helps us learn about others and ourselves. Volunteering in the Museum's education program helps supplement what schools are able to provide and gives the participants a positive experience with art.
Have you had a special experience at The Museum that you would like to share?
I have noticed that the art experience levels the playing field allowing everyone to contribute equally.  There are no wrong answers here, only different points of view.
What is your favorite artwork at The Rockwell Museum and why?
My favorite artwork at the moment is NDN (for life) by Jaune Quick-To-See Smith because of the symbolism and layering the artist uses. There is more to each of us than meets the eye at first glance.
What do you look forward to each time you volunteer at The Rockwell?
I look forward to the friendly atmosphere and smiling faces of the staff and other volunteers. 
What have you learned by volunteering at The Rockwell?
I have learned more about both history and art.  Learning more about the artists and the art on exhibit has given me a deeper appreciation of the Rockwell's collection and the value it adds to our community.