You might have seen The Rockwell and other museums around the U.S. launching "Museum from Home" resources in the past couple of weeks, designed to help supplement your distance learning school activities and keep your students engaged and entertained. We know you're probably balancing your home turning into the office, school, gym and playground and have a lot of other things to think about besides teaching your child art! However, art making and creative play are proven mood boosters for children and adults alike. This blog series offers some tips and tricks for incorporating art into your new routines.
STEM TO STEAM: WHAT'S IMPORTANT ABOUT THE "A"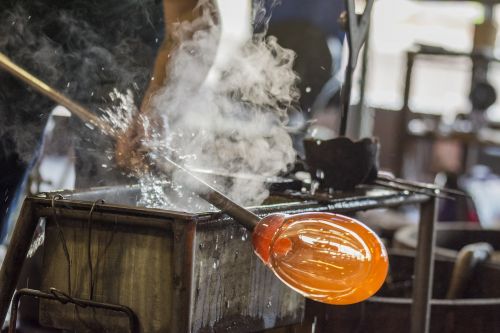 Have you heard of "the STEM fields?" It's become very clear over the last two decades that the way we live our daily lives are rapidly advancing – have you ever seen a robot in your grocery store? Science, technology, engineering and math are crucial to training tomorrow's workforce to prepare for the challenges and opportunities of the future. However, the importance of creativity cannot be overlooked as it is incorporated into innovative inventions of the future who one day may change the world.
The arts, represented by the "A" in STEAM, are the missing piece of the puzzle. Arts education provides critical thinking and problem solving skills that make inventive thinking in STEM possible. STEM thinking is analytical, but innovation requires thinking outside of the box. That's where the experimentation inherent in the arts comes in. The arts work as a bridge into real life. Consider the importance of web design or usability in technology – that's STEAM at work. 
To put it another way, success in any STEM field requires skills learned through arts such as observation, recognizing & forming patterns, written, oral and visual expression, transforming and synthesizing. STEAM education works best if you incorporate two or more of the disciplines into one project. If you've ever seen a Hot Glass Demo at the Corning Museum of Glass, you've watched a STEAM project happen right before your eyes! Glassblowers are knowledgeable about science, what compounds and temperature are required for glass blowing; engineering and math, how large or small can the glass get while keeping the form intact; and of course, art, as they creatively seek to make something new and visually pleasing.
Of course, while it's easy to see how CMoG embodies STEAM, The Rockwell Museum's collection demonstrates many examples as well because all artists are practitioners of STEAM! Color theory is science. Portrait and landscape painting utilize math. Photography incorporates technology. Sculpture requires engineering. While exploring The Rockwell's collection with kids, ask about how they think things were made.
How did the artist know how that certain colors would pop when placed side by side?
How did the artist get the wing of the sculpture to extend so far out into space?
Asking questions is the foundation of STEAM!
Here's what STEAM can look like in at-home art-making:
Math Self-Portraits
Get out your rulers! Use measurements to draw a realistic human face (All faces have the same general proportions. Place eyes halfway down the head, the mouth halfway between the eyes and bottom of the head and the nose halfway between the eyes and mouth.
Use this online resource to get started
Assemblage Sculptures
Try the last activity from our Horsing Around activity sheet. Head into the yard or park and collect branches. How can you create a 3D sculpture that stands on its own? Be creative in how the branches are balanced and held together. Are there other materials in nature that might be helpful to include? Consider strands of grass or weeds for string, rocks for stability or flowers for a colorful accent.
Scientific Illustration
Careful observation is where science and art overlap. Head into the yard or sit down in front of your favorite houseplants. Capture every detail of the organism you've decided to study. Add in a setting for scale. Write a list of its physical properties. Describe the specific shades of color, the precise size of different parts, the texture, the smell, etc.
Small-Scale Architecture
Artist Noa Haim of Collective Paper Aesthetics created this simple print-out that can be used to create building blocks that can be used to design whatever you image! This is a fun, reusable and simple activity if you have a printer at home.
There are great resources for more STEAM projects online. Start simple and see what captures your imaginations!
Still have questions?
The author of this series has taught art classes for 5 to 13-year-olds in one room at one time, does not hold a fine art degree and boldly leads parents with infants through museums. If you have specific questions about how to tailor a lesson to your multiple ages at home or how to get the most out of your DIY art curriculum, ask me anything!
Kate Swanson – swansonk@rockwellmuseum.org