A new gallery dedicated to Haudenosaunee (Iroquois) art and culture will join The Rockwell's permanent collection galleries, opening to the public on November 16, 2017.
[smartslider2 slider="79″]
Haudenosaunee, which translates to The People of the Longhouse, refers to the six Nations of the Iroquois Confederacy – Seneca, Cayuga, Onondaga, Oneida, Tuscarora, and Mohawk. This new permanent gallery at The Rockwell will feature a blend of art and objects of material culture of many different Nations, from pre-contact tools to 19th-century clothes, toys, dolls, baskets and bowls, as well as contemporary fine art by artists including Shelley Niro, Peter Jemison and Richard Glazer-Danay.
Curator of Collections, Kirsty Buchanan, worked with Seneca Faithkeeper Peter Jemison, as well as Jonathan Holstein, Native American Scholar, to select and interpret the art and objects that will be on view in the new gallery.
Don't miss two opportunities to be the first to witness and celebrate the opening of this new gallery with us!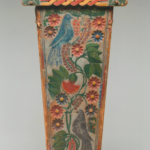 Wednesday, November 15, 2017 | 5:30 – 7:30 p.m.
Haudenosaunee Gallery Opening Reception
Join us for refreshments and conversation at the unveiling for the NEW Haudenosaunee Gallery, to be located in The Rockwell's third-floor permanent collection galleries. This unique celebration will include a welcome blessing and a special performance by the Allegany River Dancers starting at 6:00 p.m.
Sunday, November 19, 2017 | 1:00 – 3:00 p.m.
Family Day: Haudenosaunee Gallery Opening Celebration
No reservations needed for this drop-in, interactive learning experience for families. Learn about local culture and traditions with the Native American Council of Corning Incorporated. Hear native stories and legends with the Southeast Steuben County Library. Taste the Haudenosaunee 'Three Sister' crops (corn, beans and squash) prepared in a variety of tasty culinary recipes.