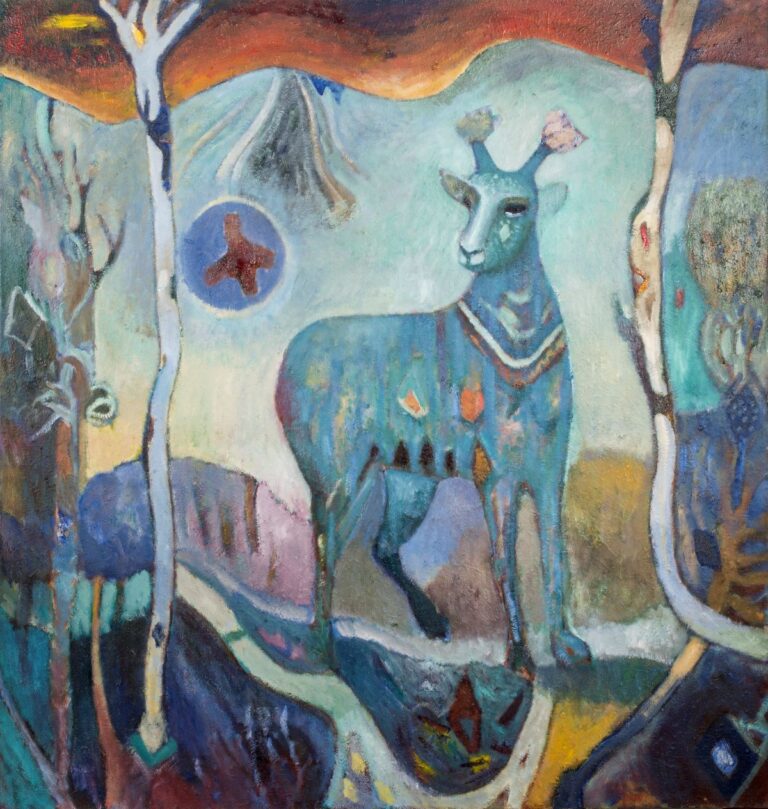 This Rockwell Paper Scissors project is available at the KIDS ROCKWELL Art Lab April 3–9 (while supplies last), as well as during our April 15 Family Day! Visit us in person or follow along at home with these simple DIY instructions to make your own Animal Habitat Collage with art materials from around your home.
Many artists are resourceful and like to use all kinds of materials, including those you might find in your home and use every day. See what materials you have to complete this project, and don't be afraid to experiment and try something new and unexpected.
This month, we considered the ideas of "heroes" by thinking about the habitats that animals live in and protecting animals whenever we can. Just being aware of what the animals in our region need to be safe and happy can help us make sure that we don't disturb their homes. You can learn more about protecting the habitats of local animals here. 
We also thought about being creative with our plastic to make art projects! We all know that single-use plastics are not great for our environment, but sometimes we can't avoid them. If you disinfect those items, you can create collage artwork with them! You can also use paper, cardboard, or any other leftover, discarded items from around your house, once they are clean. Let's get started!
What You'll Need:
Cardboard square cut from an old box
Recycled materials of different colors and textures.

For example: bottle caps, can tabs, plastic bags, shredded paper, brown paper bags, sponges, foam pieces, magazine cut-outs

Crayons, markers, or paint
Construction paper
Liquid glue
Scissors
Animal Habitat Collage Instructions:
Select an animal image from the ones we provided at the Art Lab or imagine an animal of your choice. Think about your animal: where does it live? What does their habitat look like? Does it have grass? Trees? Water? Rocks? What kinds of textures and colors do you see in the animal's habitat?
Look for some recycled materials with interesting textures, like pieces of foam, shredded paper, plastic bags, and plastic caps from milk or juice jugs. Make sure your materials are clean and are no longer needed for their original jobs! Start with a cardboard square—a piece of an old box works great!

Sketch out some big shapes for your habitat, such as water, rocks, or grass on your cardboard square.

Glue your materials down in the area you think their texture or color would look best.

Cut out additional shapes from construction paper to fill in any gaps; use your crayons, markers, or paint to add details.

Finally, use our animal templates to cut your animal from construction paper, or draw your own. What part of the habitat does your animal want to live in? Glue it down where you think it looks happiest!

---
Rockwell Paper Scissors is a new blog series featuring easily recreate-able art projects that you can do at home! Each installment will feature a materials list, step by step guide with photos, and Rockwell artwork connection.
Share your project with us! Tag your project with #RockwellPaperScissors, or tag The Rockwell on Instagram, Facebook or Twitter with your creation.