Corinne West was a pioneering Abstract Expressionist, the first uniquely American movement to influence international art on a global scale.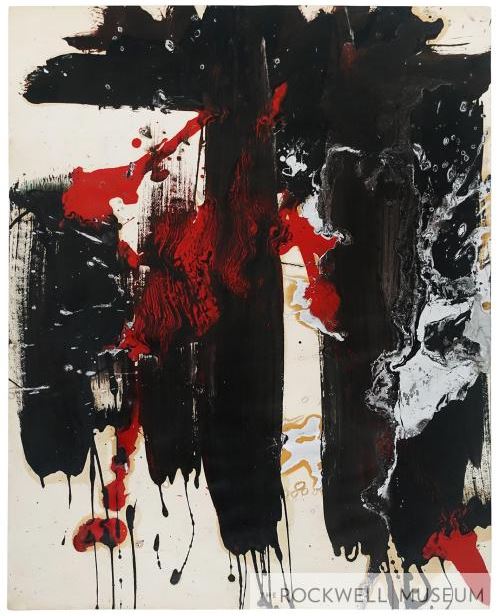 By the 1940s, New York had replaced Paris as the epicenter of the international art world. The artistic, intellectual and cultural leaders who once called Paris home had migrated en masse to New York as war loomed in Europe. West was one of the women artists who helped define the emerging New York School of Abstract Expressionism. After studying with Hans Hofmann at the Art Students League, she evolved his style of formalized Synthetic Cubism into her own groundbreaking, non-representational, expressionist paintings.
West adopted the nom de brosse "Michael" at the suggestion of fellow artist Arshile Gorky. This was designed to mask her gender at a time when women artists were tolerated, but their talent viewed as derivative of men. However, West's artistic career did not follow in the footsteps of any of her male peers. During the 1940s, her artistic development paced that of Jackson Pollock as they both pioneered new methods of expression. West was able to successfully navigate the evolution from Cubism, which was derived from representations of the natural world, to abstraction. But unlike Pollack, West struggled for critical recognition at a time when the attention of post-war American art critics was focused on a hyper-masculine prototype of the "artist." While her groundbreaking contributions propelled American Abstract Expressionism forward, she was written out of the narrative because of the gender bias of 20th century art historians and critics.
"The fifties [were] the worst decade in the history of the world – unless you happened to be white, male, heterosexual and an artist." -Gore Vidal
West was romantically involved with Arshile Gorky but refused to marry him. That decision preserved her artistic independence, but her lack of affiliation further denied her support from galleries, collectors, critics and museums. Throughout West's life her dramatic relationship with Gorky would overshadow her career, culminating with Gorky's suicide on her wedding day. Scholarship on West is limited although several planned exhibitions of her work hope to draw attention to her contributions. Sadly, she is most often remembered as "Gorky's muse" rather than a pioneer of Abstract Expressionism.
This crucial acquisition fills several areas of need that have been identified by the collection development plan. It enhances the growing collection of works created by women artists and adds to the very small group of Abstract Expressionist paintings currently owned by The Rockwell. The addition of West's work paves the way for our 2020 acquisition commitment to exclusively pursue works by women artists in alignment with our annual theme.