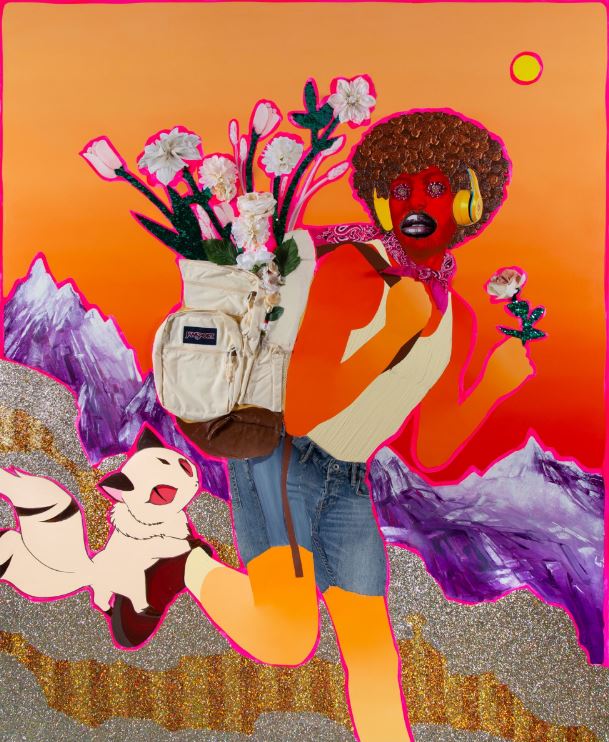 This colorful multimedia artwork by Devan Shimoyama will soon join The Rockwell collection—Le Mat (The Fool) from the Tarot Series is currently featured at the CAC Málaga in Spain for the summer and will travel to its home at The Rockwell this fall. Visitors and members will recognize the work of Devan Shimoyama from the recent exhibition, Untitled (For Tamir) that was on view at the Museum earlier this year.
The Tarot Series is an ongoing body of work based on the deck of cards used in the mystical practice of card reading. Shimoyama's series reinterprets imagery from the famous Rider-Waite-Smith deck, which was originally published in 1909. He also takes inspiration from the Tarot de Marseille, a style of cards that was popular in France in the seventeenth and eighteenth centuries. The Tarot Series is the product of the COVID pandemic, when the artist experienced a period of self-reflection: searching for entertainment and comfort, he took an interest in mythological practices and symbols.
"We are thrilled to have this work coming for Rockwell visitors and members, especially after featuring Shimoyama's well-received exhibition this past Spring," says Executive Director Brian Lee Whisenhunt. "I've had a long-held interest in tarot, its use of iconography and connection to art history, so the work is special to me personally. Institutionally, the work enhances our growing collection of art by Black and Queer artists. This strategic area of focus helps the Museum further our mission to tell the story of the American experience through art and represent more diverse and expansive views within our galleries. I predict it's going to become an iconic work for the Museum and our community." 
Le Mat, or The Fool, is an unnumbered card and part of the Major Arcana, twenty-two cards that represent major changes or life events. As Shimoyama explains, the story conveyed by the deck is "called the fool's journey. So, there is somewhat of a protagonist that undergoes a number of changes throughout this journey from card to card. And he's learning about himself." [1]
The central figure in the painting is Shimoyama himself. He explains "I'm using my own body as a vessel, or a kind of archetypal character, a protagonist of a narrative, through which I'm exploring a multitude of small, kind of, vignettes or scenes or moments. So in these works it's not so much about self-portraiture or reflection in that capacity but I'm using my own body as a way to explore mythology, magic, folklore, and a lot of different topics." [2]
The Fool begins his journey as an innocent adventurer, inexperienced and ready to take risks. He is a young man, idealistic and full of dreams. The journey teaches him and gives him the tools to mature into a man. The Tarot character is traditionally accompanied by a dog who warns him that he is about to step off a cliff as he looks into the distance without noticing where he is headed. In this work, Shimoyama has translated the dog into an Anime character: "a cat demon character named Kirara." [3] The artist draws on his Anime interests from childhood, referencing the beginning of his own life journey while also amplifying the Tarot decks' theme of transformation.
Shimoyama participates in a centuries-long tradition of artists creating their own decks. His Fool is a glittering, fiery variation of the traditional yellow, black, and red cards. At 84 x 68 inches, the piece defies being held in the hand and yet it tempts the viewer to reach out and touch it. Shimoyama explodes the imagery off the surface of Le Mat. He brings to life the traditional Tarot symbols in creative ways: the white rose of the Rider-Wait-Smith deck, which symbolizes purity and innocence, is represented by silk flowers blooming off the surface of the work; the beige bag of the Marseille deck has been expanded into a backpack made of a real bag – canvas, leather, zippers and all. As the young man grabs the strap of his backpack, he looks as if is ready to attend school in his own pursuit of wisdom and experience. The surrounding landscape is encrusted with glitter, a material that Shimoyama employs for its dazzling, disorienting, and immersive effects. According to the artist, glitter is "a material that latches onto everything." Because of the way glitter capture light and glimmers as the viewer moves in front of this work, it   "demands that the work is to be viewed in person and experienced in person. It makes itself known." [4] Just like the glitter, Le Fool will make its presence known in the gallery.
About the Artist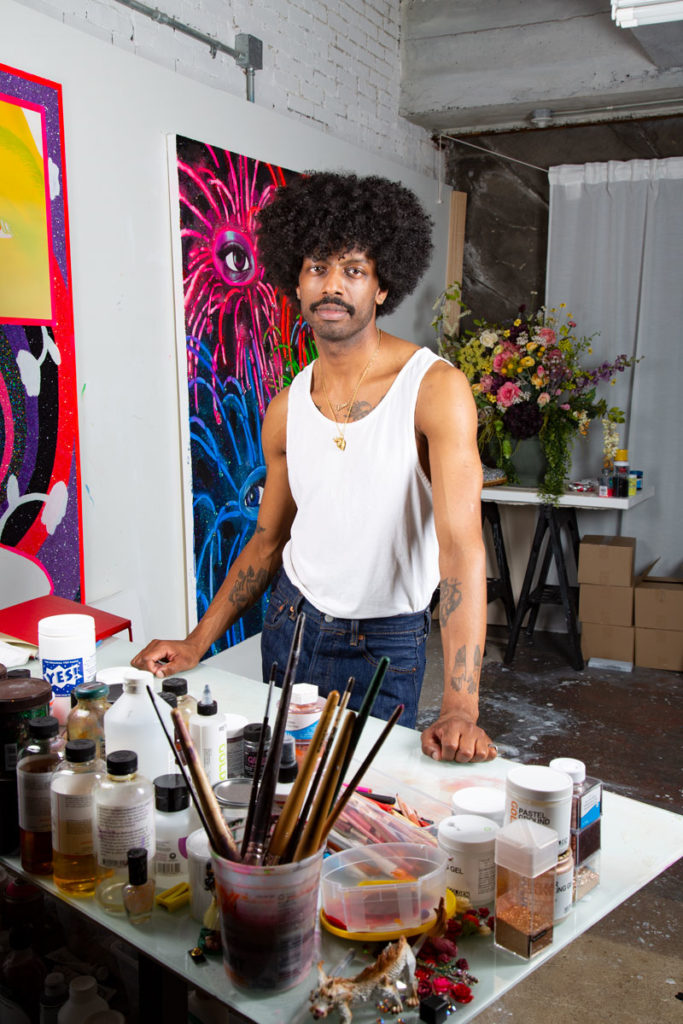 Devan Shimoyama is a multimedia artist whose works span such areas as painting, drawing, printmaking, collage, photography and sculpture. He frequently uses the genre of self-portraiture to explore his identity as a Black, Queer man, using his body as a canvas for storytelling.  Shimoyama draws from diverse sources, incorporating pop culture, classical mythology, allegory, folklore, mysticism, Queer culture, drag culture and fashion.
According to the artist, "Personal biography and self-portraiture were the most sensible starting points for exploring a multitude of topics for me, considering that I always felt as though, in order to better understand others, one must learn to understand oneself. I use my body to explore magic, mythology, history, intimacy, joy, pain, and so on, and it has really shown me that there are so many other individuals that can relate to the many various experiences I've painted about." [5]
Shimoyama grew up in Philadelphia, PA. He earned a BFA in Drawing/Painting from The Pennsylvania State University in 2011 and an MFA in Painting/Printmaking from Yale University School of Art in 2014. The artist is Assistant Professor of Art at Carnegie Mellon University, where he has been teaching since 2014.
---
Sources
[1, 2] Untitled Art Podcast. Episode 53: Devan Shimoyama and the Tarot Series. Presented by De Buck Gallery. 27 December 2022.
[3] https://www.debuckgallery.com/devan-shimoyama-tarot-series/
[4] Devan Shimoyama, Interview, Kavi Gupta Gallery, May 26, 2022.
[5] Devan Shimoyama, interview with Allie Biswas, Studio International, March 20, 2019.