Three unique ways to see Seneca Native Artist and Proto–feminist Marie Watt in Corning
Marie Watt is an American artist, drawing her inspiration from history, biography, Seneca proto-feminism, addressing the interaction of the arc of history with the intimacy of memory. 
Her exhibition,  Blanket Stories: Western Door, Salt Sacks, and Three Sisters, opens May 5, 2017 at The Rockwell Museum. In this installation built specifically for The Rockwell, Watt explores the humble yet significant role blankets play in people's lives and in our communities.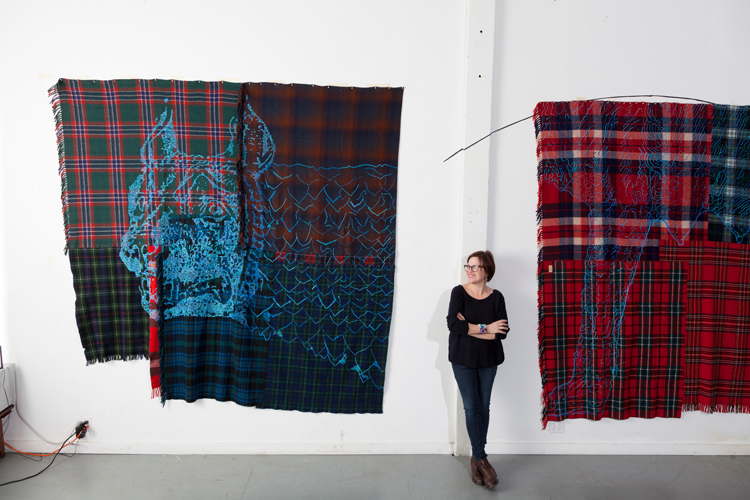 The exhibition began with a call-for-blankets in September 2016 – individuals from Steuben County and the greater New York community were invited to contribute a blanket, and its story, to be part of the sculptural totem, and ultimately, part of The Rockwell's permanent collection. The blankets were then shipped to Watt's studio in Portland, Oregon, where they were cataloged, cleaned, and prepared for the sculpture.
The week of May 1, Watt will be here in Corning to direct the installation of the exhibit, and much more! Here are three unique ways to celebrate the exhibition opening with artist Marie Watt!
Tuesday – Thursday, May 2 – 4, 2017
Guest Artist at Corning Museum of Glass

Daily: 10 a.m. – Noon, 1 – 4 p.m.
Demo included with Museum admission

Building on a tradition of collaboration, The Rockwell Museum and Corning Museum of Glass are pleased to once again team up and host a contemporary artist in Corning. With your Corning Museum of Glass admission ticket, you'll find Marie Watt working with Corning's finest gaffers in the Amphitheater Hot Shop as part of their Guest Artist Series. Watt, never before having worked with glass, will work collaboratively with the team of gaffers team to experiment with new ideas and processes. 

Thursday, May 4, 2017*
Exhibition Opening Reception

Be the first to see this incredible sculpture at the exhibition opening reception of Blanket Stories: Western Door, Salt Sacks and Three Sisters with artist Marie Watt. Watt will talk through her process and speak on the themes that ran through the blanket stories that were collected from the community. 

*Reservations required by Wednesday, May 3. 

Friday, May 5, 2017*
Rockwell Ambassador Launch Party for New Members

As part of this opening weekend celebration, we're pleased to invite young museum-lovers to gain insider access to artist Marie Watt, while learning about a brand-new membership level for young art-lovers. If you love culture-centric social activities like private tours, art-inspired excursions, and unique opportunities to meet local artists and curators, Rockwell Ambassadors is for you. Join us on May 4 to learn more and get involved! 


*Reservations required by Thursday, May 4.