The Great Circle Artist in Residency, a custom program between The Rockwell Museum and the Elmira City School District, continues in the New Year with first grade students at Fassett Elementary in  Elmira. 
Aleta Wynn Yarrow, resident artist, will join students and teachers in Fassett first grade classrooms beginning January 14th preceding a visit to The Rockwell the following week. The Artist in Residency program brings a contemporary experience to the classroom along with a perspective that applies 21st century skills to teaching art.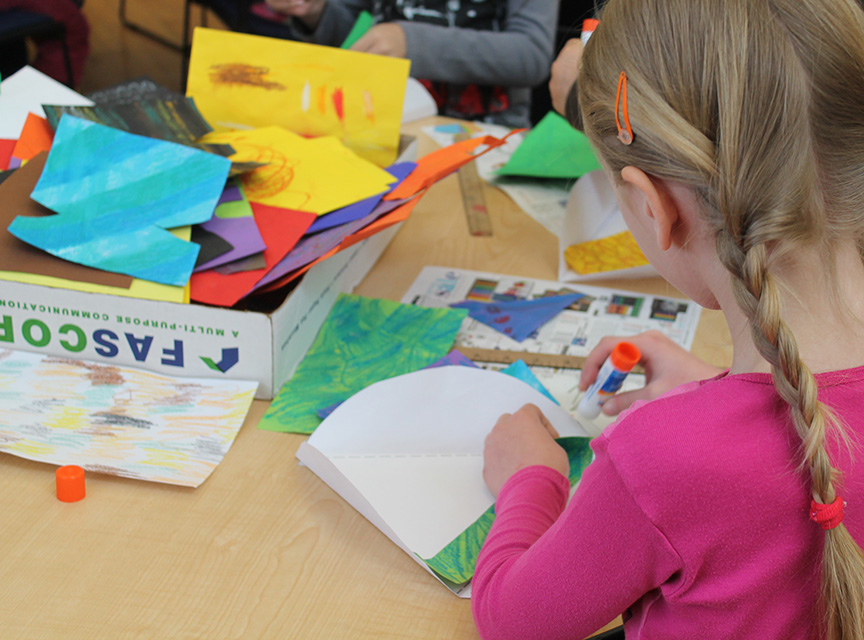 With a goal of reaching all first graders in the Elmira public school district, The Rockwell has already completed artist residencies this academic year at Riverside and Pine City schools.  The final residency will take place at Diven Elementary in early April. 
The Great Circle program is an early childhood Artist-in Residence collaborative program between The Rockwell Museum and the Elmira City School District and includes four in-classroom visits by a local artist and one multi-experience visit to The Rockwell.  Students explore the overall theme of "The Great Circle: Growing, Moving, and Helping," which focuses on nature—the seasons, sun, moon, plants, animals and human relationships with natural cycles.
These topics complement the New York State Common Core curriculum and encourage students to learn in new ways. 
The Great Circle Residency is a program collaboratively designed between museum educators, classroom teachers and artists.  Working as a professional learning community, the artist and school team align and integrate the project with the curriculum to promote deep learning. 
District- wide implementation for all first grade students during the 2015-2016 academic year has been made possible in part with support from The Hilliard Foundation, Anderson Foundation, Tripp Foundation, M & T Bank, Hardinge Anderson Evans Foundation, Community Foundation of Elmira-Corning and the Finger Lakes, Inc., Partners for Arts in Education and New York State Council on the Arts.