The Smithsonian American Art Museum, in partnership with Intel, is sending the digitized wonder of No Spectators: The Art of Burning Man on the road as a virtual reality experience – and you can find it in the Rockwell parking lot October 26 – October 28, 2018!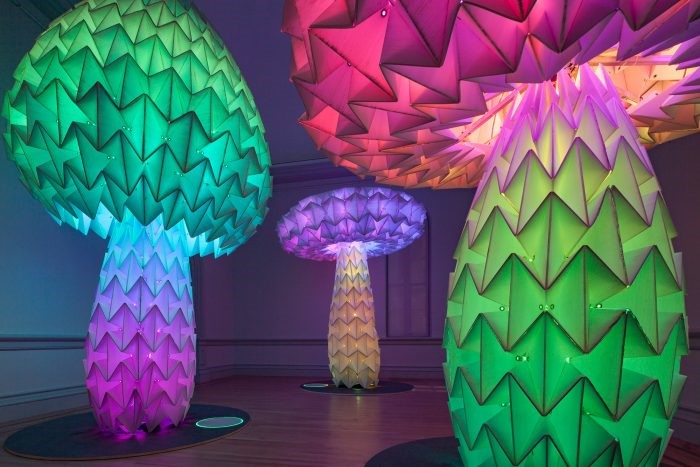 Each year in Nevada's Black Rock Desert, a city of more than 70,000 people rises out of the dust for a single week at Burning Man. During that time, enormous experimental art installations are erected and many are ritually burned to the ground. Both a cultural movement and an annual event, Burning Man remains one of the most influential phenomena in contemporary American art and culture.
No Spectators brings the large-scale, participatory work from this desert gathering to Smithsonian Affiliate museums around the country via Virtual Reality. This immersive 3D experience allows visitors from across the country to "see" this exhibition at the Renwick Gallery in Washington D.C. 
Experience Details
Location: The Rockwell Museum, Parking Lot (111 Cedar Street, Corning, NY)
Friday, October 26, 2018 | 5 – 8 p.m. | FREE and open to the public during Urban Arts Crawl
Saturday, October 27, 2018 | 9 a.m. – 5 p.m. | Included with Rockwell admission
Sunday, October 28, 2018 | 9 a.m. – 5 p.m. | Included with Rockwell admission
Kids/teens 17 and under are always free at The Rockwell; this experience is for ages 13+
The VR pod will have 9 stations
The full VR experience takes about 20 minutes per person – first come, first served
Rockwell Members with the Smithsonian enhancement level can skip the line with a special ticket!
As the only Smithsonian Affiliate in upstate New York, The Rockwell is proud to bring Smithsonian resources and experiences to the greater Corning community – we look forward to seeing you there!