One of The Rockwell's newest acquisitions is now on view in the Southwest Gallery. Pueblo Warriors Jar (2014) joins two other artworks by ceramic artist Jason Garcia that are now part of the permanent collection.
[smartslider2 slider="102″]
Like many of Garcia's works, Pueblo Warriors Jar appropriates comic book iconography to depict historic Pueblo warriors. This jar features Marvel's Thor and Loki characters alongside historical heroes from Garcia's Tewa Tales of Suspense comic-inspired series of screen prints and clay tiles. Jason Garcia has frequently turned to the subject of the 1680 Pueblo Revolt for inspiration in his works, casting the rebellion in a comic book format and making a painful episode in American history accessible to a wider audience, especially young people.
"I feel that it is important to keep alive the ceramic traditions that have been passed down to me since time immemorial. I feel that these materials and techniques connect me to my ancestral past and landscape, but also connect myself and future generations to our Tewa cultural traditions."
-Jason Garcia/ Okuu Pin
The Rockwell currently has two of Garcia's clay tiles in the permanent collection. Garcia's works experiment with blending ancient Pueblo stories, designs, and imagery with elements of contemporary Western popular culture, such as comic books and superheroes. These cultural hybrid objects help to define the younger Tewa generations that straddle traditional Pueblo culture and contemporary American life.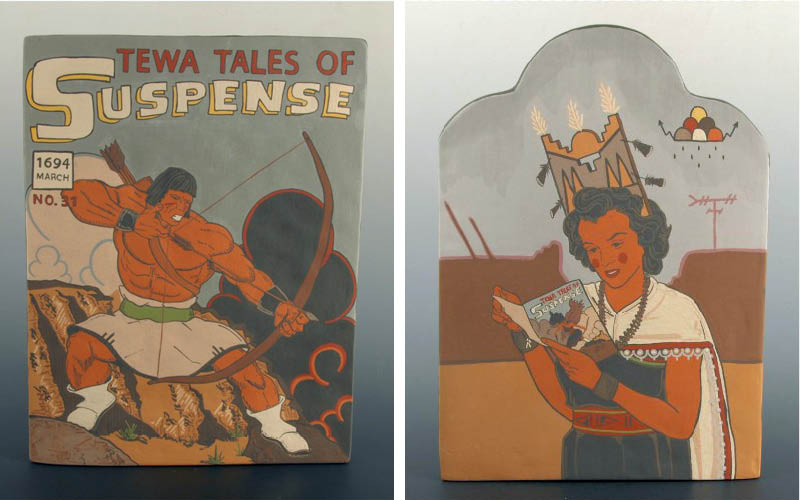 "We are excited by the addition of the Pueblo Warriors Jar, which will further contextualize contemporary Native American works in the permanent collection by living artists such as Jason Garcia and Virgil Ortiz. To me, this vessel functions as a key for viewers to help decipher Garcia's other works that are currently on view."
-Kirsty Buchanan, Curator of Collections and Exhibitions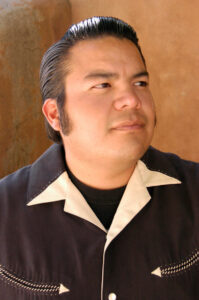 Jason Garcia is a storyteller artist from the Santa Clara Pueblo whose work documents the ever-changing cultural landscape of his home. Also known by his Tewa name Okuu Pin (Turtle Mountain), his artistic practice consists of carefully examining the world around him and presenting his uniquely personal interpretations via his artwork. He is best known for his clay tiles that blend Pueblo history and culture with the outside influences of comic books, super heroes, video games, religious icons, and all things pop culture. Garcia's work is created in traditional Pueblo methods, including gathering clay by hand, painting with native clay slips and firing works in low-temperature outdoor ovens. Garcia comes from a long line of celebrated Tewa potters from the Santa Clara Pueblo – including his parents, John and Gloria Garcia, and his great-grandmother, Severa Tafoya.