The Rockwell Museum is pleased to announce the winners of the Second Annual Gingerbread Invitational − an artful gingerbread competition and exhibition with a focus on historic landmarks and architecture in Corning and the surrounding region. 
The exhibition is on view now through January 2, 2017. Throughout the holiday season, visitors to The Rockwell will have the opportunity to cast their vote for their favorite gingerbread creation, selecting the Community Choice Award, the winner of which will be announced in early January. 
On December 1, 2016, The Rockwell hosted an exhibition opening where a panel of judges announced three winners based on originality, use of materials, level of difficulty, and overall presentation. The panel included guest judges Amy Simpson, Reporter and Anchor at WETM 18 News; Don Beckley of LeChase Construction; and Kristin Swain, Executive Director of The Rockwell Museum.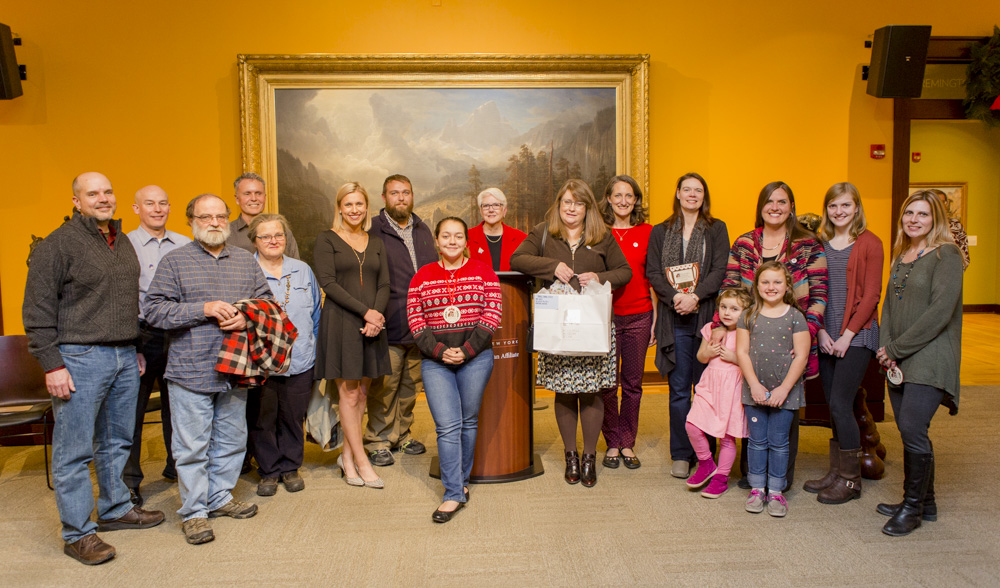 A group of friends including Ann Cady, Colleen McCall, and Martha Easton took the First Prize for their rendition of The Mark Twain Study in Elmira, NY. Their creative use of materials, accurate representation of the building, and an overall "yumminess" factor won the judges over. 
The team was awarded with a first prize trophy that ironically, was also commissioned through Colleen McCall. The ceramic artist insists, "Working with ceramics is much easier than working with gingerbread!" 
Wegmans Bakery won Second Prize for their rendition of the Centerway Square in Corning, complete with Santa and his sleigh, titled "The Heart of Corning." This was their second year competing, and they plan to compete again next year. 
"We felt that this piece really captured a warm holiday spirit," said judge Don Beckley. 
Barbara Mack of Corning Pie Works and her family were awarded third prize for their whimsical version of the Corning Fire Department, which includes a fire engine carefully created with over ten types of candy. Judge Kristin Swain was especially taken by their inclusion of the iconic bell that used to hang in The Rockwell Museum's tower. 
"The exhibition opening and awards ceremony was a huge success. It's clear from the community support we've seen so far that the Gingerbread Invitational will be a great tradition for The Rockwell and Corning for years to come," said Project Manager Willa Vogel.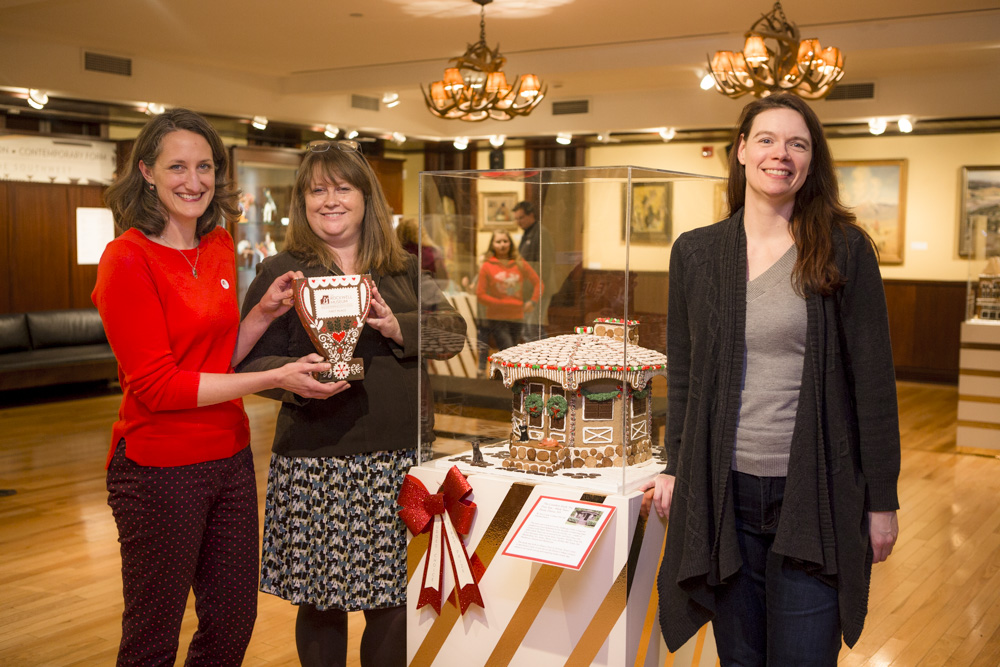 The Rockwell Museum offers free admission to The Gingerbread Invitational during the annual Holiday Open House on December 3 and 4, 2016. On December 3, The Rockwell hosts Family Sparkle from 3:00 – 6:00 p.m., with gingerbread cookie decorating and holiday games. 
"Thanks to our sponsors, we'll also be offering free admission on Thursdays, 5 to 7 p.m., throughout December. Family Night Sponsored by LeChase Construction will offer warm drinks, sweet treats, and a nice opportunity for an unplugged evening with your family and friends," said Vogel. 
Along with the exhibition, The Rockwell is featuring gingerbread-related activities in the Family Exploration Studio, including a gingerbread Art Hunt, paper "candy" crown-making, a light board with gingerbread designs, holiday match games, and a winter constellations activity. 
During the winter months, visitors will also notice the return of a beautiful hand-knitted scarf for Artemus, the sculptural bison located on the façade of the building. The scarf was created in 2014 by a group of community knitters at Woolly Minded on Market Street. 
The Gingerbread Invitational is sponsored in part by LeChase Construction. 
Visit Facebook for even more pictures from the 2016 Gingerbread Invitational
When & How To Visit 
Open daily, 9 a.m. to 5 p.m. Closed December 24, 25 and January 1.
Kids/teens 17 & under always free. Local residents always 50% off, including up to 2 out of town guests. Discounts available for students, AAA, seniors, and military.
Holiday Open House | December 3 & 4, 2016 | Free admission all weekend, all ages.
Family Sparkle | December 3, 2016, 3 – 6 p.m. | Cookie decorating, art hunts, and more!
Family Night Sponsored by LeChase Construction | Thursday, December 8, 15, 22 & 29, 2016 | Open late, free admission all ages 5 to 7 p.m.
The Polar Express | December 16, 6 p.m., December 17, 2 p.m. | Movie viewing in the gallery, meet The Conductor | Free for kids, adults $5 
Exhibition Participants 
First Place, Judges' Choice
The Loveliest Study You Ever Saw – Mark Twain Study, Elmira, NY
By Ann Cady, Colleen McCall, Martha Easton 
Second Place, Judges' Choice
Heart of Corning – Centerway Square
By Wegmans Bakery, Corning 
Third Place, Judges' Choice
The Corner of Corning Blvd. (Corning Fire Department)
By Barbara Mack of Corning Pie Works, with help from daughters Frances, Lilia and Margo Mack 
Honorable Mention: Creative Use of Materials
Harris Hill Glider Hangar
By Ellen Knapp of Knapp Farms, Mary Moore, Caroleen Vaughn, Jason Knapp 
Honorable Mention: Gaffer Award
Little Joe Tower
By Stephen Miller, Patrick Anderson, Daniel Roemmelt 
Honorable Mention: Ambassador Award
Corning High School Singing at USS Arizona Memorial
By Haley Brown
Honorable Mention: Architectural Realism Award
The Rockwell Museum
By Jen Bauman
can't get enough? All things holiday-related at the Rockwell museum