The Rockwell Museum believes in building our community through partnerships and collaboration. That's why we're so pleased to partner with the Wineglass Marathon once again this year!
In 2017, runners and their families will have four awesome opportunities to experience The Rockwell. Happy training, and we'll see you at the end of the month!
Friday, September 29 | Urban Arts Crawl | 5:00 – 8:00 p.m. 


In September, our art partners in Downtown Corning kick off the new season of Urban Arts Crawl – an art-centric celebration of the unique and diverse art scene in our humble little town.  As a self-guided final Friday of each month, The Crawl includes stops at internationally acclaimed museums and independent galleries alike. Artist talks and demonstrations, modern dance performances, live music and more make The Crawl a truly unique and entertaining experience. Plan to spend your evening on Historic Market Street with various social opportunities at local bars and restaurants post-crawl. Oh, and it's free!

Saturday, September 30 | 26.2 Minute Museum Marathon Tours | 2:00, 3:00, 4:00 p.m.

The Rockwell Museum collection tells the story of the American experience through a display of stunning art about America. Get the brief introduction to The Rockwell's collection with 26.2-minute speed tours! Tours will begin every hour are included with museum admission.

The diverse collection includes a mix of contemporary Native American art with traditional bronze sculptures, landscape paintings and other works that embody America. Founded on a collection by Robert and Hertha Rockwell, the collection today includes some of the best works of the great American artists including Albert Bierstadt, Andy Warhol, Thomas Moran, Alfred Jacob Miller, and especially significant paintings and bronzes by Frederic Remington and Charles Russell. 

 Sunday, October 1 | Post-Race Tasting | Noon – 4:00 p.m.

Treat yourself! You came, you ran, you conquered – now unwind with some delicious tastes of wine and other craft beverages that the region has to offer. Nothing pairs with a nice stroll through a fine art museum like sipping on a wide sampling of regional wines, beers, and spirits. You're sure to find something for every taste and preference. 

Hors d'oeuvres and tastings are free to runners and their guests! Full bottles will be available for purchase directly from the tasting staff. If you're not able to take some time to hit the tasting trails this weekend, The Rockwell Museum has you covered.

Friday, September 30 through Sunday, October 2 (ALL WEEKEND) | Half-Off Admission for Runners & Families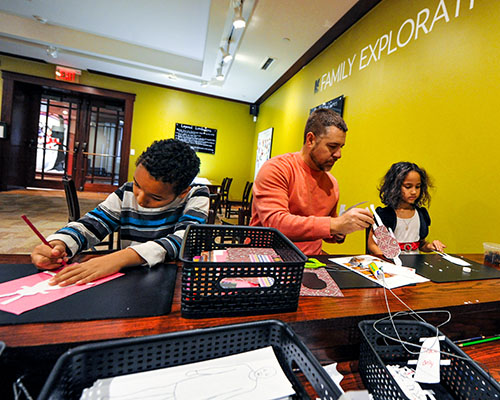 The Rockwell Museum, Upstate New York's only Smithsonian Affiliate, is home to a significant collection of art, and a place where high-quality education and entertainment intersect. If you can't make it to one of the three events listed above, you still can't leave Corning without visiting The Rockwell Museum. This weekend, runners simply show their bib to enjoy 50% off admission – that's our local resident rate!
Adults love our intimate, high-quality museum; kids love our gallery games and Family Exploration Studio; parents love the quality family-togetherness The Rockwell provides while connecting their kiddos to an authentic art experience.
We'll see you at The Wineglass! Open every day, 9:00 am to 5:00 pm.