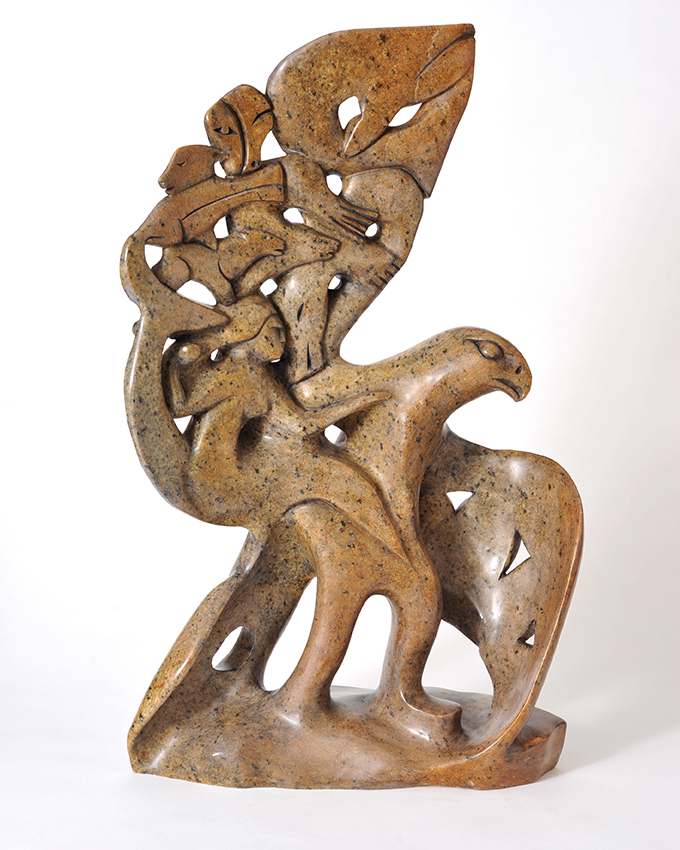 Abraham Anghik Ruben, Sculpture
Birds, Animals, and Spirits, 2014, Brazilian soapstone. Clara S. Peck Fund Purchase and in-kind by artist. 2014.9
The sculpture, entitled Birds, Animals, and Spirits, is a one-of-a-kind artwork created specifically for The Rockwell Museum collection by Ruben. The 360-degree glass case invites visitors to explore the intricacies of the three-dimensional design.
The artist is well-known for the fluidity of his carving, for his merging of Inuit and Norse traditions, and for the strong narrative quality inherent in his work. This soapstone carving depicts an Inuit shaman metamorphosing into a falcon through the transformative power of ceremonial dance. Shamanism is a religion which was widely practiced by the native tribes of North America in which the practitioner, or shaman, enters into a trance-like state in order to communicate with non-human spirits. Shamans served as intermediaries between the earthly and spiritual world, seeking guidance and intervention on behalf of their communities for healing, favorable weather, successful hunting, and victory in battle.
---
Ed Mell, Sculpture
Jack Knife, 1993. Purchased in 2013.
Jack Knife, a nearly 5-foot tall bronze sculpture, features an iconic cowboy on a bucking horse. This bronze sculpture is on display in Buechner Park, green space created by Corning Incorporated located kitty-corner to The Rockwell Museum at the intersection of Denison Parkway and Cedar Street. The Rockwell Museum and Corning Incorporated worked together to make this significant work of art available to the public through the installation in Buechner Park.  Buechner Park is named in memory of the late Thomas S. Buechner, an acclaimed artist, founding director of The Corning Museum of Glass and long-time supporter of The Rockwell and greater-Corning community.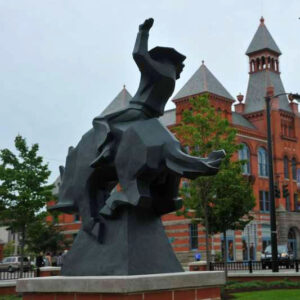 Bronze casts of this sculpture, Jack Knife, also stand front and center in the heart of the Scottsdale, Ariz., arts district, as well as the grounds of the Tucson Museum of Art. Nationally recognized master artist, Ed Mell, is from Arizona and created the award-winning monumental sculpture, Jack Knife, in 1993.
"Jack Knife has a reverence for the Old West. It is not traditional, but yet it has a traditional theme. The angularity accelerates the power and energy of the rider and horse, more than accurate depiction," Mell said.
---
Custom-made replica frame, Mt. Whitney, 2013.
Purchased in 2013.
Albert Bierstadt's iconic Mount Whitney was refitted with a custom-made replica of an 1870s American frame by the prestigious frame company, Gill & Lagodich Fine Period Frames & Restoration in 2013. Mount Whitney commands the Visions of the West Gallery at the Rockwell Museum as one of the nation's most important American landscape paintings.
With the new frame, the luster and appeal of Mount Whitney will continue to serve as the cornerstone to the Rockwell collection.
This re-framing project reflects a wider effort within art museums to house their most important paintings in frames that are correct in style and time period. Most recently, curators have begun to look at frames more critically. The study of American frames in particular, is a relatively new field of scholarship, and it is only in the past few decades that collectors and museums are re-evaluating the importance of frames on their own and in relation to paintings.
---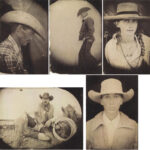 Robb Kendrick (born 1963), Selection of 15 Tin Type Portraits, 5 x 7 or 7 x 5 inches (each)
(William Reaves Fine Art, Houston, TX)

Robb Kendrick is an accomplished photo essayist whose images are frequently included in major publications such as National Geographic. Kendrick's tintype series of contemporary working cowboys ranks among the most significant body of regionalist work produced since the 1930s and the WPA era. These antique-style photographs have been the subject of two recent books – Revealing Character: Texas Tintypes (2005, Bright Sky Press) and Still: Cowboys at the Start of the 21st Century (2008, The University of Texas Press). What makes Kendrick's tintypes so interesting is that in them, he calls attention to the distinctive ranching culture and the trappings of the present-day American cowboy. Kendrick has become the most important source of present-day imagery and photographic documentation of one of America's most unique and storied professions. In the process, he has reminded viewers around the country that the cowboy is part of a living, vibrant culture, community, and profession in 21st century America. Kendrick's choice of medium, a photographic process first developed in the 1850s, links current cowboy subjects to their historic predecessors via a photographic medium that spans both past and present eras.