Today we get to know two members of The Rockwell leadership team. Lisa Gill heads the finance and operations department, and joined the Museum staff in August 2021. Willa Rose Vogel, who started at the Museum in 2014, has been promoted to director of advancement and communications.
---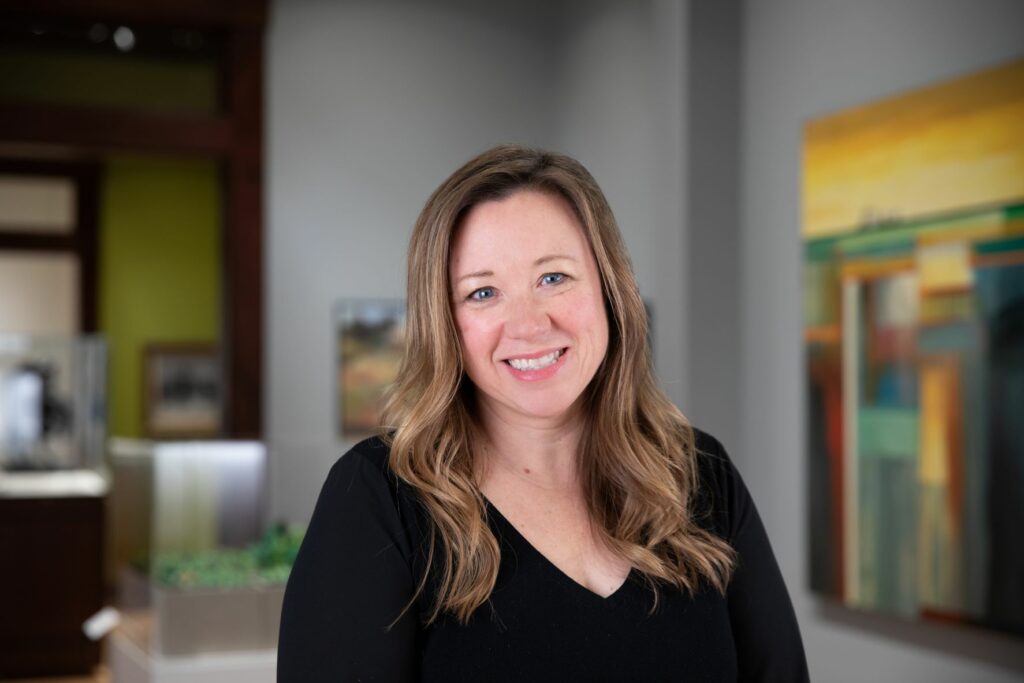 Lisa Gill, director of finance and operations, joined The Rockwell staff in August 2021, and hit the ground running with strategic planning and budgeting as the Museum prepares for its 50th anniversary in 2026. Lisa came to the Museum with extensive experience in non-profit finance, as well as personal commitment to the local arts and education community.
Lisa, what drew you to The Rockwell Museum?
I was drawn to The Rockwell Museum not only for the opportunity to work among some impressive works of art, but also because of who we strive to be as an organization within our community. As a parent, I have seen the positive impact that the collaboration between The Rockwell and our local childcare centers and school districts has had on my kids. As I went through the interview process, I was impressed by the team here at The Rockwell and their commitment to fully live the mission and vision of the Museum. I am excited to be here and look forward to the many exciting things on the horizon. 
What's your favorite artwork in The Rockwell collection as of now?
My current favorite is "America's Crazy Quilt" by Doug Smith. The painting is large and I find the juxtaposition of the top ¼ of the painting being neat and orderly and the bottom ¾ being more abstract, to be intriguing. I find myself getting lost in the painting as I look at it. 
What does the Director of Finance do in her down-time?
As the mom of three boys, I am in the season of life where there is not a whole lot of "down-time" – and I am ok with that! In just about any season, you will find me cheering them on at sporting events or musical recitals. In the winter, I enjoy getting out with my family and friends to ski and play in the great outdoors of New York State.
---
Willa Rose Vogel, recently appointed director of advancement and communications, has been with The Rockwell in an evolving role in digital media, marketing and communication since 2014. At the helm of the advancement department, Willa will oversee the direction and growth of The Rockwell's events, public engagement, marketing, public relations and fundraising initiatives.
Willa, how has your day-to-day evolved here at The Rockwell with your new position?
Thanks to working for an organization that evolves with its employees, my role at The Rockwell has been evolving since I started working at the Museum in 2014. Moving from marketing manager to director of advancement is an exciting step. The scope of my responsibilities has increased to include fund development, public programs and of course marketing and graphic design! Because we are such a collaborative staff, I've always been able to contribute to these initiatives and more. Now, I'll be responsible for determining the annual strategy and long-term vision of the department. No small task, but I am looking forward to the opportunities for the Museum and what we can offer to our Members and community as we prepare for our 50th anniversary.
Luckily, I work with an amazing team of brilliant, self-motivated women in my department–Jess Spady, Janelle Steiner and Katharine Mead!
What special projects do you have in the pipeline?
One major initiative is the re-design of The Rockwell Museum website. The current website launched just before I started at the Museum–it's exciting to revamp with current trends and accessibility in mind. The Rockwell has evolved its vision, visitor experience and virtual offerings so much in the 8 years I've been here and it's important for our digital presence to reflect everything we do here with a fresh look and voice.
In the next year, the advancement team will be rolling out some new membership initiatives, supporting some exciting additions to the program calendar, and bringing back the ever-popular Masquerade Gala! There's never a dull moment here. We also recently launched our Artists as Activists audio tour, which was a very fun project to support. I'm super proud of what we made! You can listen online, or better yet, come to the Museum to experience it in person!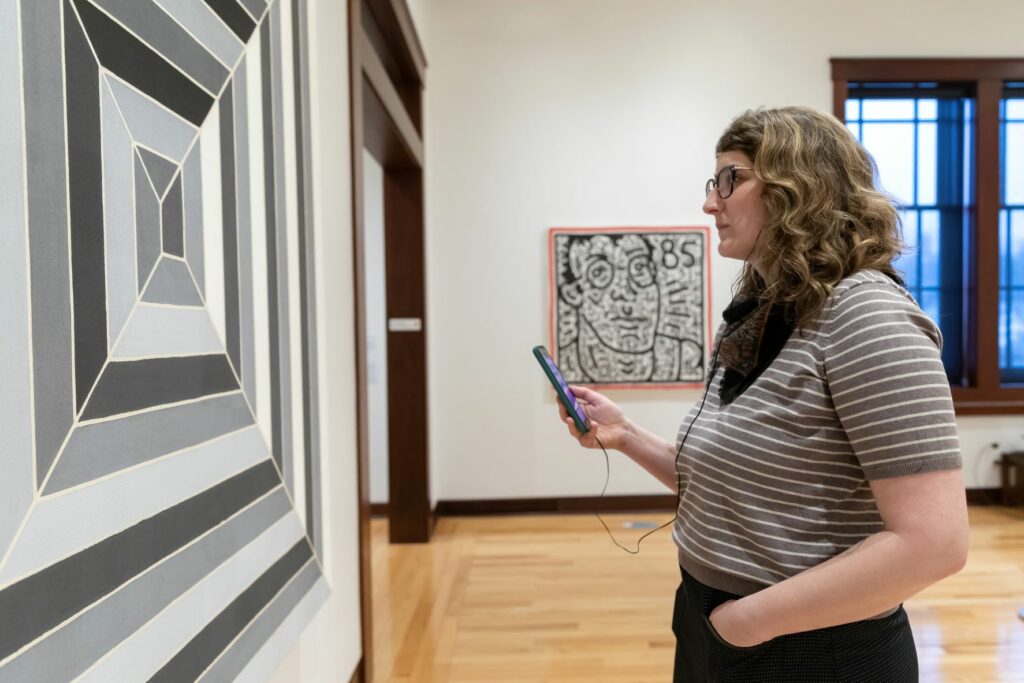 And, as much as we evolve and introduce new ways to Rockwell, we continue to offer truly meaningful and inspiring arts experiences for our community that kind of blow my mind. I'll admit I cry a lot at work, almost always for good reasons. Just last week I had tears in my eyes (corny, but yes, literally) when I just saw a photo on our own Instagram of blind artist Michael Naranjo working one-on-one with local blind community members at a ceramics workshop. The next day, I spoke to two military personnel who happened upon the exhibition and were so moved by the artists' story and work. Then just an hour later, in a special tour for staff and volunteers, I teared up again listening to Naranjo speak about his life story and approach to art and to life, waxing poetic on everything from fear to family. The power of art sometimes just catches me off guard!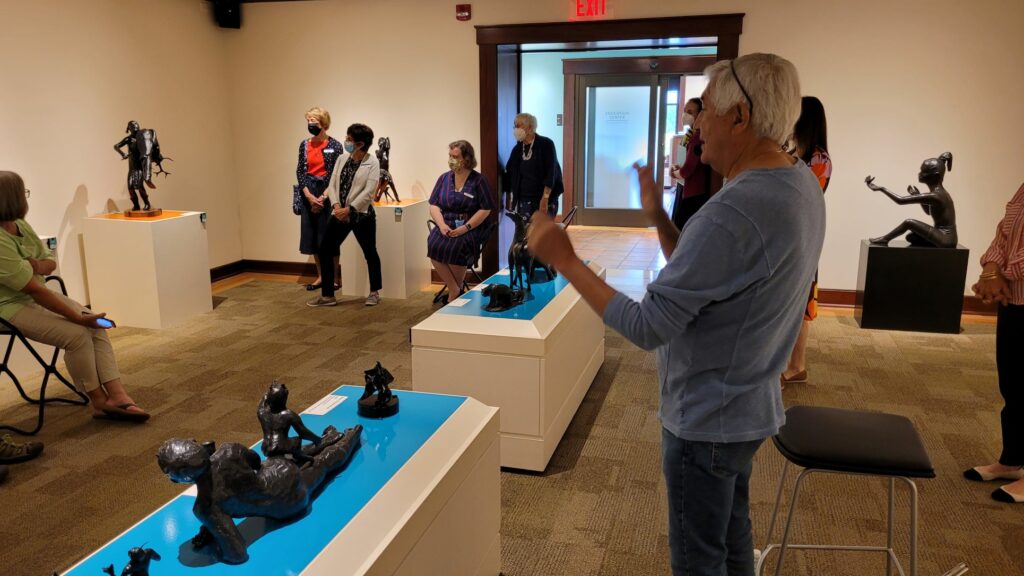 In my role, I really aim to share some of these quieter, special stories with the world so we can motivate donors to support our work, and continue to grow deeper roots in our community.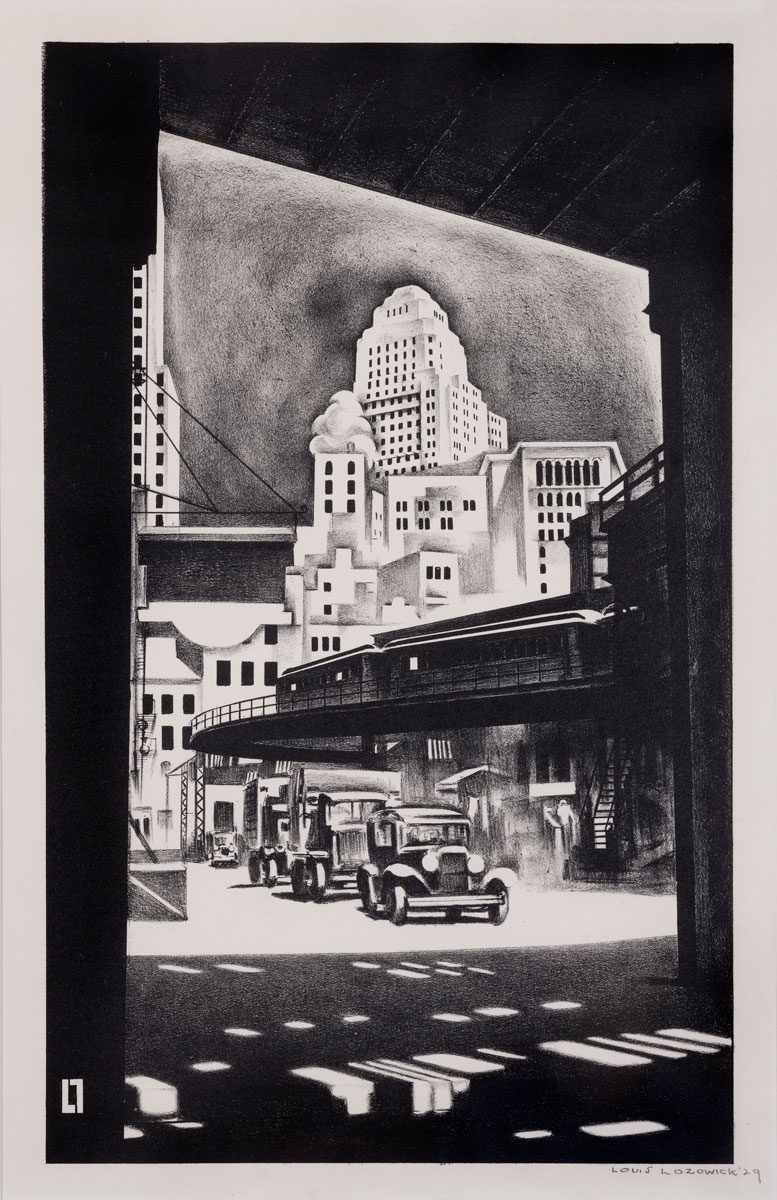 What is your favorite artwork right now at the Museum?
It changes all the time. I love Gail Tremblay. This work by Emmi Whitehorse makes me feel feelings. And I'm always drawn to printmakers and recently fell down a research rabbit hole on Louis Lozowick.
He was born in 1892 to a Jewish family in Ukraine (then part of the Russian Empire). He escaped pre-revolutionary Russia alone at the age of 14 where he was eventually reunited with his brother in New York City. He grew up in a small rural village, in a home with a dirt floor and thatched roof, so you can imagine the transition to life in New York City was really life-changing. He was fascinated with urban life of 1906 NYC – capturing skyscrapers and elevated trains and giant bridges with a lot of high contrast and extreme angles. I learned he was also very outspoken in the social issues of his day through his art.
The lithograph here at the Museum, Hanover Square, has a really similar vibe to another favorite of mine – Under The Elevated by DeAnn Prosia, which some visitors might recognize as an acquisition from the American Women Artists juried exhibition we hosted in 2018.
I suggest poking around the Smithsonian American Art Museum archive to see some more of his work. Oh, and coming to The Rockwell to see Hanover Square in person. 🙂